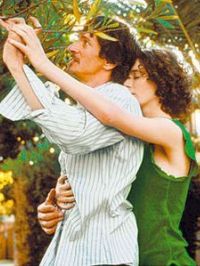 Catch up with the idea behind this series here.
We all remember Jack Nicholson's raised eyebrows as he said the word, "Crash" at the end of the 2005 ceremony. What has to be, objectively, one of the biggest surprises of the last twenty years in the Best Picture category is, subjectively, one of the worst catastrophes the Academy has ever produced. "Crash" is a wretched film, but let's focus on the positive. This was the first time a Best Picture winner was a film that premiered at festivals and was picked up for distribution.
Ang Lee became our first non-white Best Director winner, George Clooney became the first person to receive acting and directing nods in the same year for different films, no film won more than 3 Oscars for the first time in nearly sixty years and the Best Documentary winner grossed more than the Best Picture winner. No shortage of talking points then.
2006 was the year of Scorsese, finally winning the big prizes for "The Departed." Biopics continued to reign in the acting categories, with Forest Whitaker joining last year's Philip Seymour Hoffman in the category of non-traditional leading men walking away with Best Actor honors.
Jon Stewart and Ellen DeGeneres were charged with hosting duties, both more famous in the TV realm and both serviceable MCs. Again it was up to Jack Black and Will Ferrell to bring the night's best entertainment.
So what should you throw into your Netflix queue other than "Crash?"
2005 – "Me and You and Everyone We Know" (Miranda July)
I want to start by saying that I should hate everything about this movie. First of all, July's reputation as a performance artist more than a filmmaker made me extremely trepidacious when stepping into the theater. The fact that it was a colorful Sundance pick-up commonly described as "quirky" gave it almost impossible odds to be anything other than awful. And yet, somehow, July hits all of the right notes and carves out a completely unique take on falling in love.
She wisely sticks close to home, portraying a performance artist in the film (possibly as a way to showcase some of her work) and populates the supporting cast with interesting characters and even more interesting actors. Potential Oscar nominee John Hawkes is not your typical love interest, but he shares a gentle chemistry with July that seems to be perpetually on the verge of boiling over into pure passion or contempt.
The real scene-stealers, though, have to be Brandon Ratcliff and Miles Thompson as his two young sons. One scene involving them on an internet chat room is an instant classic that had me absolutely beaming in the theater as I marveled at its humor, bravery and delicate execution. Who says scenes of people typing are boring? Extra bonus points to July for avoiding the deadliest of Hollywood hackery and letting these children be children, not miniature adults.
The warm cinematography by Chuy Chávez and precious electronic score by Michael Andrews both perfectly compliment July's vision as does the crisp editing by Andrew Dickler and Charles Ireland. All three work in tandem to highlight moments, which is what July and this film are really about. Something as tiny as her character hopping into a car, noticing a sticker on the dashboard and saying, "cute" is as memorable as anything put out in 2005.
I still consider "quirky" a pejorative, but July proves that a genuine love and understanding for the characters and world you create, rather than standing back and laughing at them (I'm looking at you, "Napoleon Dynamite"), proves it can actually reflect something unique and inspired.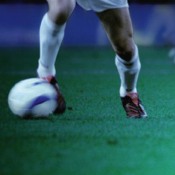 2006 – "Zidane: A 21st Century Portrait" (Douglas Gordon, Philippe Parreno)
It's about time some actual experimental cinema got recognized by this column, since it will never ever be recognized by the Academy. If you don't know, this film is a conceptual experiment initially conceived as an art installation that saw directors Gordon and Parreno set up seventeen cameras around the Santiago Bernabéu stadium and captured an entire 90 minute soccer game between Real Madrid and Villarreal. The twist? Every single camera was trained solely on one player, Zinedine Zidane.
Soccer fans will immediately recognize the name as one of the greatest players to every kick a ball and the temptation may be to assume that the film plays as a 90 minute highlight reel for a major talent. Instead, it brilliantly contextualizes the role a single player has on such a team sport. This is a film about a man quietly doing his work. There's no cutaways to any other player, there's a few quotes from the man himself that serve as sporadic narration and there's a fantastic score by Mogwai pulsating throughout. But that's. About. It.
In an interview with LA Weekly promoting his film, "Offside," director Jafar Panahi stopped the questions to ask one of his own. "Wait, do you even know what an offside is in soccer?" The interviewer confesses ignorance and states he never watches the sport. "You have no idea what you're missing. Do you even know why movies are 90 minutes long?" Panahi asks. "Don't tell me, it's because soccer games are 90 minutes long!" Panahi laughs and says, "Of course!"
I can admit to being a soccer fanatic (there's no other way to be when you are raised in Europe by Europeans) and find a lot of truth in what Panahi says, even if it is a bit tongue in cheek. You may need to have at least a passing interest in either soccer or experimental cinema to get much out of "Zidane: A 21st Century Portrait," but as a sports film, it challenges us to rethink the concept of what these people actually do. The circumstances may be radically different, but the stress and pressures of the workday are surprisingly universal.
Sit back, enjoy the stunning cinematography, listen to the gorgeous score and watch as Zidane, Gordon and Parreno turn a routine Sunday match into a hypnotic meditation on the work of a superstar.
Those are my picks. What do you guys think?
[Photo: IFC Films]
[Photo: Artificial Eye]