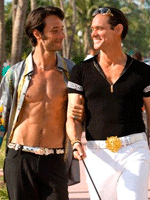 Well, we all knew the WGA would have a unique slate of nominations, given the list of ineligibilities this year (which included "Another Year," "Blue Valentine," "Biutiful," "The Ghost Writer," "The King's Speech," "Love & Other Drugs," "Made in Dagenham," "Never Let Me Go," "The Way Back" and "Winter's Bone," among others).
I was expecting to see "The Fighter" slide onto the list in the wake of that purge, as well as "The Town" (which adds to SAG and PGA recognition with this nomination).  But I didn't think Nicole Holofcener's "Please Give" would make the cut (though Anne mentioned it as a possibility in Friday's Oscar Talk), and I definitely didn't see "I Love You Phillip Morris" coming (which is one of my favorite adaptations of the year).  Interesting that it was another Roadside Attractions released that filled in for "Winter's Bone."
We've still got the USC Scripter finalists on the way later today. (NOTE: I've just been notified that the Scripter finalists will be revealed tomorrow.) Tomorrow, the Art Directors Guild will announce nominees, followed by the Cinema Audio Society on Wednesday.  Check out the full list of WGA screen nominees at The Circuit.
[Photo: Roadside Attractions]