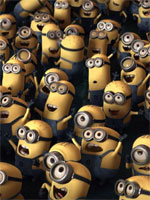 Look to your right, at Kris's current Best Picture predictions. Now look at the list of 10 films just nominated for the Producers Guild of America's top award. Ready for a quick game of Spot the Difference? It'll be very quick — there are none. (Kris's hopes yesterday for one wild-card nod were in vain.)
The PGA could hardly have stuck any more closely to the script with this morning's announcement, which points to a rapidly solidifying race three weeks ahead of the Oscar nominations. Still, questions remain, and I'd still bet against the Academy following this list precisely to the letter.
Among the titles left off the PGA's list is "Winter's Bone," but the microbudget no-name indie was never likely to score with these guys. Will passion votes still propel it into the Oscar Ten — and if so, among the presumed stragglers, will "127 Hours" or "The Town" make way?
Mildly more surprising is their animated category, which sees "Despicable Me" elbowing "Tangled" out of the way. ("The Illusionist," as Kris and others correctly predicted, wasn't going to factor in here.) Did the Disney blockbuster struggle to impress the money men with its complicated production history and stratospheric budget? (As Nathaniel Rogers pointed out on Twitter, the film's US gross is still $93 million short of clearing its cost.) The Academy's animators' branch, of course, has different priorities — but this snub suggests that race for the third Oscar slot is tight indeed.
Difficult to read too much into the PGA's documentary lineup, given their very different demands and the fact that two of their nominees are officially out of the running for the Oscar, but "Inside Job," "The Tillman Story" and "Waiting for Superman" all remain on course.
Check out the full list of nominees at The Circuit.
[Image: Universal Pictures]