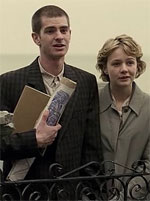 The London Evening Standard Awards, a particularly bijou set of critics' honors reserved for British titles and talent, tend to swerve a little left of the expected — chosen as they are by a jury of six disparate, but equally opinionated, critics. So it is this year: obviously "The King's Speech" and "Another Year" feature heavily, but the list is peppered with pleasing examples of independent thinking.
Indeed, this jury has given a sharp reprimand to the recent BIFA Awards by including Peter Mullan's lavishly praised indie "Neds" in their Best Film lineup, a highly diverse selection that also includes Sylvain Chomet's animated wonder "The Illusionist" (yay), Matthew Vaughan's divisive comic adaptation "Kick-Ass" (boo) and Clio Barnard's performance-documentary hybrid "The Arbor."
Frozen out in the Oscar race, "Never Let Me Go" nonetheless had a good day here with a leading five nods, thanks largely to the jury's regard for all three of its leads.
The performance categories throw up numerous interesting mentions: I'm glad to see Kristin Scott Thomas crack the list for her French-language work in "Leaving" (I think I know which critic pushed for that one), while the appearances of Brenda Blethyn and Olivia Williams on the list are equally pleasant surprises. Some eyebrows will be raised, however, by the listing of Ruth Sheen in place of her "Another Year" co-star Lesley Manville.
Finally, an extra round of applause to the jury for remembering composer Dickon Hinchliffe's shivery score for "Winter's Bone" — which I was coincidentally plugging last week — in their technical citations.
This year's jury included London press critics (only three of whom write for the Standard, lest the name mislead you) Derek Malcolm, Kate Muir, Charlotte O'Sullivan, Anthony Quinn, Tim Robey and David Sexton. Winners, already determined by the jury, will be announced on February 7.
The nominees:
(1/21/11 UPDATE: These are not the nominations, it turns out.  Instead they are a prematurely released long list.  See this post for explanation.)
Best Film
"Another Year"
"The Arbor"
"The Illusionist"
"Kick-Ass"
"The King's Speech"
"Neds"
"Never Let Me Go"
Best Actor
Riz Ahmed, "Four Lions"
Jim Broadbent, "Another Year"
Colin Firth, "The King's Speech"
Andrew Garfield, "Never Let Me Go," "The Social Network"
Eddie Marsan, "The Disappearance of Alice Creed"
Ewan McGregor, "The Ghost Writer"
Sam Riley, "Brighton Rock"
Best Actress
Brenda Blethyn, "London River"
Rebecca Hall, "Please Give"
Sally Hawkins, "Made In Dagenham"
Keira Knightley, "Never Let Me Go"
Carey Mulligan, "Never Let Me Go"
Kristin Scott Thomas, "Leaving"
Ruth Sheen, "Another Year"
Tilda Swinton, "I Am Love"
Olivia Williams, "The Ghost Writer"
Best Screenplay
"The Arbor"
"Down Terrace"
"The Ghost Writer"
"Kick-Ass"
"Never Let Me Go"
"127 Hours"
Technical Achievement Award
Jenny Beavan (costume design), "The King's Speech"
Gareth Edwards (cinematography, production design and visual effects), "Monsters"
Dickon Hinchliffe (score), "Winter's Bone"
Andrew McAlpine (production design), "Made In Dagenham"
Dick Pope (cinematography), "Another Year"
Mark Tildesley (production design), "The Killer Inside Me"
Peter Sellers Award for Comedy
Roger Allam, "Tamara Drewe"
Omid Djalili, "The Infidel"
Ed Gaughan, "Skeletons"
Robin Hill, "Down Terrace"
David Thewlis, "London Boulevard"
Most Promising Newcomer
J Blakeson (writer/director), "The Disappearance Of Alice Creed"
Conor McCarron (actor), "Neds"
Tuppence Middleton (actor), "Skeletons" and "Chatroom"
Ben Wheatley (co-writer and director), "Down Terrace"
Nick Whitfield (director), "Skeletons"
Best Documentary
"A Day In The Life"
"Enemies Of The People"
"Exit Through The Gift Shop"
"Land Of The Free"
"No Greater Love"
"Oil City Confidential"
[Photo: Fox Searchlight Pictures]