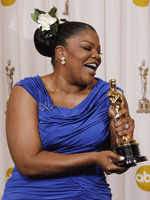 Just when we thought Mo'Nique was done with the season, she's baaaack.  The press release, in part:
Nominations for the 83rd Academy Awards® will be announced on Tuesday, January 25, by Academy of Motion Picture Arts and Sciences President Tom Sherak and Oscar-winning actress and Academy member Mo'Nique.

Sherak and Mo'Nique will unveil the nominations in 10 of the 24 categories at a 5:30 a.m. news conference at the Academy's Samuel Goldwyn Theater in Beverly Hills, where hundreds of media representatives from around the world will be gathered. Nominations information for all categories will be distributed simultaneously to news media in attendance and via the Internet on the official Academy Awards website, www.oscar.com.