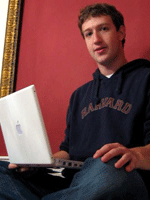 Sony's campaign for "The Social Network" sure is moving along swimmingly.  As if the critics' groups didn't give the film enough of a headwind going into the voting frame of phase one, the film is hitting DVD and Blu-ray January 11, a scant three months after theatrical release and right in the middle of the buzz maelstrom.
Of course, it's all by design, and a DVD release party being held at Spago in Beverly Hills Thursday night, press naturally invited en masse, will keep the good word spreading.  An Oscar run is all about timing, and so far, this one has it in spades.
There's something else that's key to that date, though.  Film writer William Goss alerted me over the weekend to the fact that, on January 11, 2004, Mark Zuckerberg began this epic, defining journey when he bought the domain ("thefacebook.com") that would become, after a slight tweak, the most-visited website on the internet.  Coincidence?
Add that to Zuckerberg being tapped by TIME Magazine as 2010's Person of the Year, a helpful piece in The New York Times wondering whether Columbia's Oscar drought is over and the aforementioned critics' awards dominance and you've got the most fortunate publicity situation you could ask for.
And yet, I guess I'm not willing to consider the Oscar race said and done.  How stubborn of me.  More on that in today's Off the Carpet column, though.
[Photo: Scrape TV]