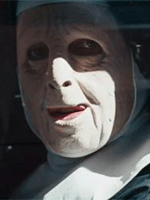 Tomorrow the guild circuit launches with the WGA (separate post coming) and PGA nominations.  The critics' circuit was well and good but this is where crossover memberships begin to give us a tangible view of how the race will fill out.
Last year the PGA (Producers Guild of America) piggy-backed the Academy's plan to expand the field of nominees from five to 10.  It also copied the new voting scheme, which uses the preferential balloting system to determine nominees.
The two films that missed with the guild but made it into the Best Picture 10 were "The Blind Side" (odd that it missed, given its box office take) and the Coens' "A Serious Man." In their place: Clint Eastwood's "Invictus" (why?) and the blockbuster "Star Trek." What can we expect this year?  Continue after the jump to see what I'm thinking.
Darryl F. Zanuck Producer of the Year Award for Motion Pictures
"Black Swan"
"The Fighter"
"Inception"
"The King's Speech"
"127 Hours"
"Shutter Island"
"The Social Network"
"The Town"
"Toy Story 3"
"True Grit"
I thought about pathetically predicting the same 10 I'm currently betting on for Oscar.  But why not anticipate a surprise or two?  Anne's "steak eaters" take on "The Kids Are All Right" could easily rear its head here.
I thought about taking a dive on "Alice in Wonderland" (it made over $1 billion and the award is named after producer Dick Zanuck's father, after all — not that that matters but, you know, respect), but it's hard to imagine a lot of passion behind the film.  Another possibility is a second tip of the hat to animation, for "How to Train Your Dragon." The most likely to fall away might be "127 Hours," which hasn't impressed at the box office (to say the least).  But I'll go this route and not get TOO crazy.
Speaking of animation:
Producer of the Year Award in Animated Theatrical Motion Pictures
"Despicable Me"
"How to Train Your Dragon"
"Megamind"
"Tangled"
"Toy Story 3"
That's right, I'll go with the idea that the producers won't be all that impressed with "The Illusionist," if they've even had a chance to see it at all.  I could totally be wrong, of course.
What are you predicting?  Someone go out on a limb, for cryin' out loud.  Clearly I'm not willing to.
[Photo: Warner Bros. Pictures]