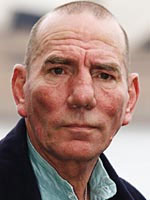 Pete Postlethwaite had one of those faces — weathered, folded, kneaded, endlessly interesting — that demanded to be on camera, even as it denied him any possibility of leading man status.
And yet, in the latter half of his career, Postlethwaite, who sadly passed away yesterday after a lengthy battle with cancer, made a convincing case for the character actor as star. Neither his visage nor his gratifyingly alliterative name threatened more than a career as "that guy," but somehow we got to know him better than that.
The turning point, of course, was a hard-earned and wholly unexpected 1993 Academy Award nomination for "In the Name of the Father" (speaking as we were, recently, of nods that came without any precursor warning), his granite-hard and quietly mournful performance as Maguire Seven convict Giuseppe Conlon joining a gallery of performances I cited last year as one of the finest Oscar fields in history.
He may not have won, but the payoff was immense — greater visibility than he'd likely ever dreamed of followed as Hollywood offered him roles in "The Usual Suspects," "The Lost World: Jurassic Park" (in which he was better than any other actor would have bothered to be, and, paired with his work in "Amistad" the same year, earned him a "best actor in the world" endorsement from Steven Spielberg) and Baz Luhrmann's "William Shakespeare's Romeo + Juliet," where his dry wit and gigantic cross tattoo redefined Friar Lawrence for my generation of high-school students.
All the while, he kept busy in Britain too, where those unlikely top-billed roles finally came to him — he was a dignified ensemble leader in the chipper working-class comedy "Brassed Off," and not only got to romance Rachel Griffiths in the Simon Beaufoy-written "Among Giants," but enjoyed a naked rain dance with her, no less. His most enduring contribution to British cinema, however, remains one he made years before his Academy-aided fame: as the alternately taciturn and terrifying Catholic patriarch in Terence Davies's essential "Distant Voices, Still Lives," that hangdog face is positively haunted.
His presence wavered slightly in the last decade, presumably as mounting health problems exerted their pressure, but he made an unexpectedly conspicuous return to Hollywood last year: we'll ride past his paycheck work in "Clash of the Titans" and straight to his surprise supine cameo in "Inception" and, best of all, his vivid, knowing character sketch in Ben Affleck's "The Town" — it's a cruel irony that we last saw Postlethwaite on screen as a man who knew his number was up, but he couldn't have asked for a more affecting exit.
[Photo: Askactor.com]