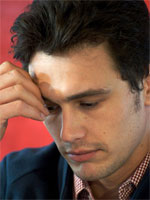 Many actors eyeing early directorial projects tend to focus on something both modest and close to home, a performance-oriented piece on which to cut their teeth for more formally ambitious works in the future.
Try telling that to James Franco. In perhaps the most unlikely heartthrob-behind-camera move since Kevin Costner announced his intention to make a three-hour post-Civil War Western with large chunks of Lakota dialogue, news has come down the wire of Franco's intention to finally adapt and direct Cormac McCarthy's  totemic Western novel "Blood Meridian," a long-mooted project previously held by the likes of Ridley Scott and Todd Field, for the screen.
But that's not before he makes his intended big-league debut as writer-director with another little literary adaptation prospect: William Faulkner's stream-of-consciousness classic "As I Lay Dying," which you may or may not recall has just 15 narrators. No sweat. As fellow film writer Neil Young remarked to me on Twitter, "He might at least warm up with a 10-hour 'Finnegan's Wake,' or perhaps just a couple of Pynchons."
Franco and his manager are in the process of negotiating with the Faulkner estate on that project, but he looks set to nab a major ally on "Blood Meridian": he's in talks with Scott Rudin, who previously shepherded that fairly successful McCarthy adaptation called "No Country for Old Men." (As chance would have it, Rudin is also handling a stage revival of "Sweet Bird of Youth," in which Franco — or perhaps a swiftly invented clone — will somehow find time to star opposite Nicole Kidman. How far away can news of the big-screen adaptation be?)
All of a sudden, that surprise (and still wholly unpredictable) Oscar hosting gig looks far from the most challenging commitment in Franco's diary. We knew, from his endeavours in short filmmaking and creative writing, that Franco has a lot of ideas in his head, but with little concrete evidence of his hyphenate ability to go on, there's no way of knowing if these new developments are heroic or foolhardy. Perhaps he's Orson Welles. Perhaps he's insane. Either way, while I confess I was more excited for Field's "Blood Meridian" than Franco's, I'm fascinated to see how this pans out.
[Photo: TheBosh.com]