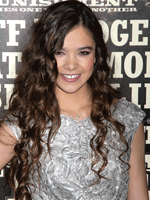 All season long the question from countless readers was, "Why do you have Hailee Steinfeld listed as a supporting actress contender?  Her character is the lead of 'True Grit.'"  Indeed.  But I knew where Paramount was going to campaign the performance, and I expected a number of critics groups to follow that notion like sheep (and they did, save for the independently-minded Utah set).
Of course, the possibility always existed that the Academy would vote its own way.
The acting branch, remember, decides category placement when it comes to performance contenders.  Just two years ago they weren't buying the supporting campaign for Kate Winslet in "The Reader," opting instead for lead (and she ultimately won the Oscar for Best Actress).  Child performances, however, tend to struggle in the leading ranks.
But ever since I saw the film and was so taken by Steinfeld's performance, I've been on the record: the studio should step up and push this as a lead (especially with two other supporting contenders in "The Fighter" to work with).  But Steinfeld has racked up enough supporting honors (and even a few trophies) to help legitimize the decision.
But I wonder.  If enough voters decide to go their own way and vote the performance in lead, it could take away from a number of potential supporting votes and splinter the works, allowing for another supporting hopeful to slide in (though perhaps it's fortunate there are so few real contenders in that category).  Looking at the rules and eligibility, unless I'm not understanding things correctly, this could be a possibility (bold mine):
The leading role and supporting role categories will be tabulated simultaneously. If any performance should receive votes in both categories, the achievement shall be only placed on the ballot in that category in which, during the tabulation process, it first receives the required number of votes to be nominated. In the event that the performance receives the numbers of votes required to be nominated in both categories simultaneously, the achievement shall be placed only on the ballot in that category in which it receives the greater percentage of the total votes.
Dave Karger is reporting today what a lot of us have been hearing, that a number of voters are indeed calling it as they see it.  And he also shrewdly notes that, with enough voting firepower, of course, Steinfeld could slide into a lead actress slot after all, because there is one spot seemingly up for grabs, given how the precursor circuit has gone.  I've been expecting the British contingent to help Lesley Manville make it in, but Steinfeld is certainly a contender to follow in Keisha Castle-Hughes's footsteps from 2003.
Then again, is it possible enough lead votes take away from her supporting haul and push her out altogether?  I'm just asking the question.
[Photo: Teen]