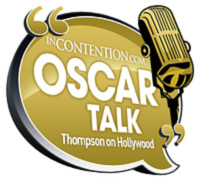 Welcome to Oscar Talk.
In case you're new to the site and/or the podcast, Oscar Talk is a weekly kudocast, your one-stop awards chat shop between yours truly and Anne Thompson of Thompson on Hollywood. The podcast is weekly, every Friday throughout the season, charting the ups and downs of contenders along the way. Plenty of things change en route to Oscar's stage and we're here to address it all as it unfolds.
After a much-needed holiday week off, we're back on the case to wrap things up on the final day of the year. There is plenty to chew on, though we kind of meander a bit, shaking off the holiday dust. Let's see what's on the docket today…
• With the critics' circuit largely behind us the question still remains, despite the temptation to call it over and done: Is "The Social Network" really so comfortably in the Oscar frontrunner position? We're not so sure.
• The guilds are on the way, which are the real indicators to pay attention to. We talk at length about the first out of the gate — the WGA (and it's inevitable list of ineligibilities) — and a little about DGA and the already revealed SAG noms.
• Speaking of ineligibilities, we briefly chart the thin Best Original Score ranks and some that didn't make the cut for this reason or that.
• One wonders whether latter-year releases can find a foothold, but one of them, "Rabbit Hole," seems to be struggling to find an audience. Could that be trouble for Nicole Kidman's Best Actress hopes?
• Anne re-addresses her "steak eaters" piece concerning male response to "The Kids Are All Right."
• For better or worse, one of the bigger publicity stories of the holiday was Natalie Portman's pregnancy, which could help or hurt her awards chances, depending on your source.
• And finally, reader questions. We address questions concerning Aronofsky actors' history with Oscar, the buzz necessary for a foreign performance to break through and potential surprise acting nominations.
Have a listen to the new podcast below, with Trent Reznor and Atticus Ross leading the way (largely as a tip of the hat to Jamie Stuart's wonderful short film "Idiot with a Tripod"). If the file cuts off for you at any time, try the back-up download link at the bottom of this post. And as always, remember to subscribe to Oscar Talk via iTunes here.
[display_podcast]

Back-up download: Oscar Talk Episode 46