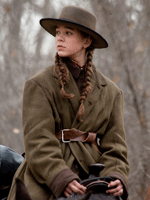 I gave the Coens' "True Grit" another look last night with the family.  Hailee Steinfeld's commanding presence alongside a scenery-chewing Jeff Bridges was as striking as ever.  I'd be lying if I didn't say my biggest Oscar wish this year is that the Academy's acting branch sees the performance for what it is: a leading lady showcase.  But we'll just have to see.
As for the film, it's as rich as ever and takes on more textures each time I give it another look.  I can easily see it ultimately being more of a fixture in my DVD player than most other 2010 entries, but it's really the reverence for Charles Portis that continues to be so rewarding.  There is no question in my mind that the Coens found the thematic pulse of the material more absolutely than Henry Hathaway's original hokey take.
Writing in The New York Times, literary theorist and legal scholar Stanley Fish seems to be in total agreement.  And of all the items I've come across in response to the film these last few weeks, I'd have to say, for me, it has the most complete understanding of what's lurking between the lines.
Calling the Coens' take "that rare thing — a truly religious movie," Fish shrewdly notes (SPOILERS):
…while the Coens deprive us of the heroism [Big Hollywood film critic Dan] Gagliasso and others look for, they give us a better heroism in the person of Mattie, who maintains the confidence of her convictions even when the world continues to provide no support for them. In the end, when she is a spinster with one arm who arrives too late to see Rooster once more, she remains as judgmental, single-minded and resolute as ever. She goes forward not because she has faith in a better worldly future — her last words to us are "Time just gets away from us" — but because she has faith in the righteousness of her path, a path that is sure (because it is not hers) despite the absence of external guideposts. That is the message Iris Dement proclaims at the movie's close when she sings "Leaning On the Everlasting Arms": "Oh how sweet to walk in this pilgrim way / Leaning on the everlasting arms / Oh how bright the path goes from day to day / Leaning on the everlasting arms / What have I to dread what have I to fear / Leaning on the everlasting arms."
And indeed, it's the theme of that hymn which carries the bulk of the score throughout.  I'd call that graph the thesis of Fish's argument, but the buttressing makes for a must-read, so head on over and dig in for yourself.  I think you'll find it tough to argue with the backbone of his take, whether you think the film a quality work or not.
[Photo: Paramount Pictures]