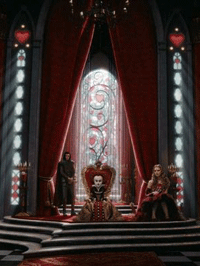 Tim Burton and Johnny Depp may well be poised to go down in film history as one of the famous actor-director duets.  Seven collaborations to date have delighted audiences for the past 20 years. They have also earned 11 Oscar nominations and four wins.  Their latest, "Alice in Wonderland," exemplifies how far along they've come in the eyes of the public with its worldwide gross of more than $1 billion.
At the same time, the film was immensely reliant — as all Burton films are — on its design elements.  Many of the artists who created those designs are now in the thick of this season's Oscar race, and I recently had the opportunity to speak to three of them: production designer Robert Stromberg, visual Effects supervisor Ken Ralston and makeup artist Valli O'Reilly.
Each certainly commented on being aware of the immense importance that his or her work would have to the project. That having been said, Ralston notes, "I had done it for so long that I wasn't panicking. I thought it could be a blast. It is daunting when you read the script, because you realize the whole thing, in one way or another, is going to be visual effects. It's a huge deal but with so many talented folks on board, you just have to trust them."
The design of the characters became not only key to Burton's world but also the marketing of the movie. Even so, O'Reilly says she approached it all the same.  "It is all going to be up there on a giant screen where everyone sees every pore," she says, "so I need to be precise regardless of the amount of makeup being used, or the extent to which I transform the actors."
Stromberg is coming off an Oscar win as the production designer of "Avatar" – the first film for which he was credited as such.  "I feel extremely grateful for the opportunity to do what I do, given my background in both art and visual effects," he says.  "But I also know that the film is reliant on so much of what I do with my team. The set design is no easier on a 3D film with a lot of visual effects"
Ralston, whose incredible resume dates back to "Star Wars," also reflected on the ultimate importance of 3D in this film, like many others post-converted today. "Though I had worked on 'Beowulf' and 'The Polar Express' before, in many ways I feel that 'Alice' was my first 3D film," he says.  "It really is just another tool but creatively what's different is that I develop the 2D effects first and then the 3D usually trails a bit. So I can creatively look at it at various stages to get it right. It's a creatively cool way to start to play with more than one face."
All three artists knew that the tools at their disposal would be useless, however, if they did not connect with the director. "He has such a unique style," says Stromberg of Burton. "Years ago, I did some quick designs on 'Sleepy Hollow,' and I must say he's great. It's like one artist talking to another, respecting each other's work and realizing how you fit into the puzzle."
Says O'Reilly, "He has his own sense of style.  There is this 'Burtonesque' look, like Hitchcock. He's very involved in the look of the characters, like a conductor.  But he also lets you have freedom and to that extent you sort of have to get in his head and look at his other films. To most people, Alice looked like she had no makeup on. But I made her eyes rounder and put dark around her eyes. I asked myself, 'In a Tim Burton world, how would his Alice look?'"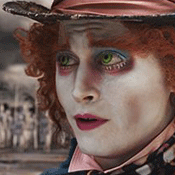 Ralston describes his director as a creative furnace. "Once we realized we were sort of on the same wavelength on everything, he gave me and my team a lot of flexibility," he says.  "We trusted his guidance so much but he also trusted us, too. It was a great experience."
But the artists needed to work with each other as much as they did with Burton and their own crews. Stromberg describes Ralston as "so instrumental in everything. Ken and I have known each other for probably 15 years – we met on 'Contact' when I was doing matte paintings. It was like working with someone you trust."
Ralston returns the compliment, adding that "this film was so effects heavy, we worked very close with everybody.  Dariusz Wolski is a very out-of-the-box thinking DP and Chris Lebenzon [the editor] has got to be the nicest guy in the world. A lot of time was saved by not going down the wrong path and ensuring we were all on the same page."
O'Reilly was actually brought on board the film by costume designer Colleen Atwood, whom she has known for 20 years. They needed to ensure that their visions of the characters matched. "We have a good working relationship," O'Reilly says. "We'd look at her storybook and while she likes how I do makeup, she also will tell me if there is something she didn't care for. At the same time, Ken Ralston's work was so key to the work of the film I had to touch base with him to ensure everything would look right."
It is not surprising, given the importance of effects in the film, that Ralston says he was on the set every second.  "I was around for basically every single thing you can imagine," he says.  "Once the live action was done, we came back to the studio and basically shot the whole thing across green screen, and I was there all the time."
Stromberg is quick to note, however, that even on the scenes shot on green screen, set construction and detail was necessary.  "It made everything look more realistic and was easier for the actors," he says.  "These were especially hard to blend in because we hadn't seen the final look yet. That's where working with Ken became essential."
O'Reilly notes that, for her, using green screen was the biggest challenge on the film. "I find it hard on the eyes," she says. "Trying to look at makeup when on lime green distorts all the colors.  Sometimes I'd put things on like magnifying glasses, to not only deal with the green screen but also visualizing Helena's large head that I knew would be there."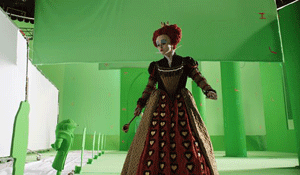 Ralston says his biggest stumbling block was getting his head around the scale and complexity of the whole project. "It's a tremendous challenge to make sense of that and still have fun doing it," he says. "So meetings had to go on with all the department heads. But it was kind of unique, especially for those who hadn't done this type of movie."
As always, the artists don't mind being out of public eye, even on a film as financially successful as this one.
"I like that," O'Reilly says. "I like the fact that people who know my work and know who I am will say, 'We've got her,' but I don't really need to have people fawn over me."
Stromberg has similar thoughts. "I'm thrilled to death to even be in conversation with the people I work with every day," he says. "The goal is to make a better film.  On 'Alice,' it was very important that costumes, character and environment fit together to do that."
Says Ralston, "I'm there to bring the director's vision to the screen and most directors I've worked with want the movie to be good."  Looking back on his illustrious career — which includes "Back to the Future" and "Forrest Gump" in addition to the aforementioned "Star Wars" — he is rather amazed at his own good fortune. "I think about these films and sometimes I feel that wasn't me doing those things.  A lot of them have certain mythologies. I love the success they've had but I also think that if I had a fun time, that's great. By the time they've reached that status, I've done five more films."
Despite this anonymity, films like "Alice in Wonderland" are often marketed to the public principally on the basis of crafts appeal.  Ralston seems to lament this fact, noting, "I hate visual effects films that are only visual effects films. The story comes first – visual effects are used in a way to complement. I still maintain one of the great visual effects films is 'Citizen Kane.'"
Stromberg has similar thoughts. "I think you really have to look at design as design," he says. "I'm using different tools to accomplish that, and the studio may use them in marketing, but it's still the same principles."
Now that the billion dollars are in, and almost a year has passed since the film was released, the artists can look back at their work with removed reflection. What will they most take with them?
O'Reilly, a former Oscar winner, notes that the film "encompassed everything – motion capture, HD, 3D, green screen, period, prosthetics, contact lenses, beauty makeup and creative, innovative looks that have never been done before. I will never forget doing all of that on one film."
Stromberg, however, looks more to the experience of the actual filmmaking. "I had a really, really strong feeling about the collaborative effort," he says. "It was a contagious feeling."
Ralston concurs. "The experience of the filmmakers will stick out in my mind," he says.  'It was a creative joy. We were on a creative fire. We knew we were on to something unique and loved it. I'm very proud of 'Alice' and the work in it."
Ralston will likely have something additional to be proud of in a month's time when the Oscar nominations come out.  Stromberg and O'Reilly have great chances to be cited alongside him.
[Photos: Walt Disney Pictures]