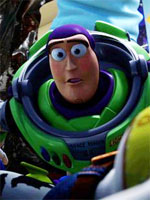 They may have enjoyed a three-year run of nominations in the category, finally taking the gold with "Up" earlier this year, but Pixar's hot streak in Best Original Score will not continue at the 2010 Oscars. Although Randy Newman's "Toy Story 3" score wasn't ruled ineligible by the Academy — unlike his work on last year's "The Princess and the Frog," which faced a late disqualification — Newman himself has opted not to enter it in the race.
Pixar's latest therefore joins a number of high-profile titles on the bench in this category, including the previously disqualified likes of "Black Swan," "The Fighter," "Tangled" and the Carter Burwell double-shot of "True Grit" and "The Kids Are All Right."
As Steve Pond points out, the official list of 77 films competing for Best Original Score makes for easily the narrowest field of the general categories. The good news, however, is that most of the names we most want to see recognized are still on it, including Daft Punk for "TRON Legacy," Trent Reznor and Atticus Ross for "The Social Network," Sylvain Chomet for "The Illusionist" and arguable frontrunner Hans Zimmer for "Inception."
Of course, the list contains an awful lot of immediately disposable flab, ranging from "The A-Team" to "Yogi Bear," but a few more interesting long-shots stand out amid the dross. Kudos to the alert, optimistic soul who made the effort to submit Mark Snow's suitably curious score for Alain Resnais's "Wild Grass," for example. I'm also pleased to see one of the year's best and most under-appreciated scores in the running: ex-Tindersticks member Dickon Hinchliffe's thrumming atmospheric soundscape for "Winter's Bone." (Sadly, his former band isn't on the list for their typically stunning work on Claire Denis's "White Material.")
Once you eliminate all the no-hopers, however, the race starts looking not just lean, but rather drab too. Here's hoping the Academy's notoriously insular music branch has the gumption to throw a Reznor or a Daft Punk into the mix (despite their usual aversion to names from the pop world), or at least to nominate new category staple Alexandre Desplat for his most interesting composition of 2010. (That'd be "The Ghost Writer," not "The King's Speech" or "Harry Potter: Part 27," all of which are in the running — though the eagle-eyed Pond notes that the workoholic composer didn't make the list for "Tamara Drewe.")
Check out the full list at The Wrap here. Nathaniel Rogers, meanwhile, has an excellent interview with Desplat here.
[Image: Pixar]