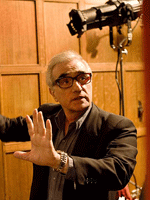 Martin Scorsese's "Shutter Island" did just fine with audiences this year, bringing in nearly $300 million worldwide and ultimately proving to be the biggest box office hit of his career to date.  However, the film didn't quite ring the bell of a number of critics who struggled to comprehend its specifically rendered formalism and opted instead to (perhaps hastily) dismiss it as a misstep in an otherwise artistically successful autumn career.
A few weeks ago I hopped on the phone with the revered filmmaker, largely for the purposes of a two-part profile of actor Leonardo DiCaprio.  Calling from London, where he's currently taking the 3D dive with "Hugo Cabret," Scorsese graciously spoke for a half hour at the end of a 16-hour day of shooting.
Much of the conversation surrounded his work with DiCaprio, but also naturally drifted into the general territory of filming the Dennis Lehane adaptation and, of course, how his famed love of cinema impacted his vision of it as a film.  So I thought it deserved a separate space.  Have a listen to our chat after the jump (and beware of SPOILERS of the film throughout).
PLEASE NOTE: The audio of the actual coversation is rough for the first 30 seconds or so before snapping into clarity.  Apologies for that.
[display_podcast]
[Photo: Paramount Pictures]