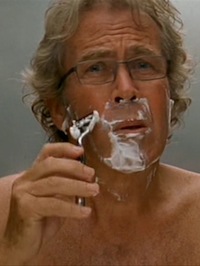 Catch up with the idea behind this series here.
2003 belonged to "The Lord of the Rings: The Return of the King" as it won every single award it was up for, tying the all time record haul of 11 trophies. Few could argue that Peter Jackson had accomplished something unique with the execution of this trilogy, but in my humble opinion, this is the most boring and bloated Best Picture winner since "Around the World in 80 Days."
Throw in the fact that Tim Robbins in "Mystic River" and Renee Zellweger in "Cold Mountain" are both embarrassingly bad performances and you can start to realize why Oscar and I have agreed to go our separate ways. At least "City of God" nabbed a few nominations, causing a stir in an otherwise sterile race.
Clint Eastwood completed his transformation back into Oscar darling in 2004 with a Best Picture triumph for "Million Dollar Baby," which also scooped up awards for Director, Actress and Supporting Actor, dooming Martin Scorsese to another year in the loser's bracket.
Billy Crystal hosted in 2003, mistakenly thinking that constant jokes about New Zealand were going to be entertaining. At least we had this though.
Chris Rock took the reigns in 2004 and may have not won over Sean Penn, but I thought his bit interviewing moviegoers at the Magic Johnson theater about Oscar contenders was amazing. Anyway, hope you all watched "Pootie Tang" this week and are ready for some new suggestions.
2003 – "The Five Obstructions" (Jørgen Leth, Lars Von Trier)
Two weeks ago I wrote in this column that "American Movie" might be the best movie ever made about filmmaking, but now I'm considering a change of tune. "The Five Obstructions" is a sharp knife dissecting the process of an artist and everything that goes along with his art, made by two incomparable provocateurs, that somehow winds up being entertaining, engaging, thought-provoking and thrilling all at once.
The basic concept of the documentary is that Lars Von Trier has always admired a short film made by Jørgen Leth in 1967 called "The Perfect Human." As an homage/experiment, Von Trier challenges his mentor to remake the film five times, applying an obtuse or ridiculous obstacle of his choosing before each new venture. Leth despises cartoons so one of the obstructions is a remake that is animated. Leth completes each task and the two watch the films over wine and discuss them. It's like auditing a two person class, which may sound horribly dull to some, but anyone with a deep interest in the art of film will find plenty to glean here.
Critics may also dismiss it as wealthy, ego maniacs navel-gazing at great expense and expecting an audience to find their exploits interesting. Von Trier directly addresses this with an obstruction based on "ethics," sending Leth to Mumbai to film a scene of himself eating a feast in front of starving local children. It's a sickening scene, perhaps made even more so by the fact that the two filmmakers have been previously seen discussing other obstructions together eating caviar. But Leth finds a way to manipulate the scene so that it doesn't violate his personal ethics and it's a fascinating glimpse into the power of staging images that filmmakers can use and abuse.
Von Trier is well aware of his image amongst the media and his audience and he has fun with that here. Demanding, masochistic, fiercely intelligent and mischievous. So much so that some viewers were left wondering if the entire thing was less a documentary and more a wild hoax (almost a decade before Banksy, Joaquin Phoenix and a catfish turned that idea into the approach du jour for documentaries). While their scruples can be questioned, nobody can take these two to task for their unending devotion to the medium. Whatever their methods, the intention was always to make you think about the relationship between an artist and his art, and a viewer with his/her work.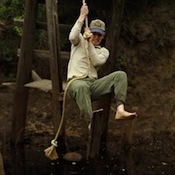 2004 – "Undertow" (David Gordon Green)
While not my favorite David Gordon Green film, it's in some ways his most fascinating work, and certainly the last thing of any substantial merit he's put out to this point. Working with established movie stars and genre elements for the first time, he allowed himself to experiment wildly with his aesthetic, while staying true to his southern gothic sensibilities and Terrence Malick-inspired lyricism. It's no coincidence that Malick himself served as a producer here.
The setting is rural Georgia and Green, along with cinematographer Tim Orr, do their best to stick you right into the mud. The atmosphere is steeped so thick that you can taste the humidity and smell the terrain. Even Jamie Bell's southern accent somehow reeks of authenticity. Bell turns in outstanding work overall, completely inhabiting the posture, behavior and cadence of an American good old boy. Dermot Mulroney plays it a bit too stiff and somber while Josh Lucas has the time of his life in the villainous role of Uncle Dell. He spits and snarls his way through the film, effectively creating a magical balance between a sense of menace and the only comic relief in the picture.
Philip Glass contributes a terrific and trademark minimalist score and you just got the sense that here was an indie filmmaker raising through the Hollywood ranks and using his access to the big guns to compliment his unique voice. Perhaps the catastrophic failure of "Undertow" at the box office inspired Green to radically change direction, first with "Snow Angels," (his first adaptation and first film set outside the South), and then "Pineapple Express." It was unfortunate to be released by United Artists at the height of their ongoing bankruptcy struggles and the film never really stood a chance in theaters.
It might have never had a chance either way, since Green self-described it as, "There's a lot of blood and slitting throats and knife fights and stuff. But then you sit back and look at the sunset." He may be exaggerating on both ends of those extremes, but it's the delicate shifts in tone that make the journey, and traditional storyline, so interesting to keep up with. The stylized opening credits alone are worth the price of admission for their schizophrenic, effects heavy, hypnotic effect.
Those are my picks. What do you guys think?
[Photo: Zentropa]
[Photo: United Artists]