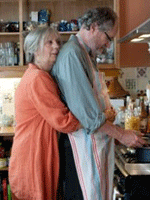 Steve Pond is on the news today that a number of this year's screenplays will be ineligible for WGA consideration (and therefore should be kept in mind when nominations are revealed next week).
First and foremost, we all know Pixar films never fall under WGA signatory regulations, so Michael Arndt's work on "Toy Story 3" will not be in the mix for Best Adapted Screenplay.  Nor will fellow animated contender "How to Train Your Dragon."  Also perennially ineligible is Mike Leigh, who works outside of the guild's procedures, so "Another Year" won't be showing up in the original field.
Joining Arndt on the adapted sidelines will be "Winter's Bone," while "Blue Valentine" and potential winner "The King's Speech" won't be eligible for original consideration.
Other scripts absent from the WGA ballot include "Biutiful," "The Ghost Writer," "Green Zone," "Love & Other Drugs," "Made in Dagenham," "Never Let Me Go," "Nowhere Boy," "Scott Pilgrim vs. the World" and "The Way Back."
And the beat goes on…
[Photo: Sony Pictures Classics]