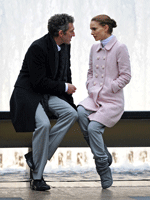 The nominations list just announced by the OFCS features most of the expected names, but with a few welcome twists: nice to see Edgar Ramírez and LAFCA winner Kim Hye-ja lending some international flavor in the lead acting categories, while the Best Original Screenplay bid for "Greenberg" cuts pleasingly against the grain.
Interesting, too, to see "The King's Speech" missing out in the top race, where both "Winter's Bone" and "Toy Story 3" have a home. (No autopilot nod for Helena Bonham-Carter, either.) Bonus points for a Best Foreign Language Film race that finally reflects the widespread critical adoration for "Dogtooth" (over "I Am Love," to boot). There's even a treat for all you "Scott Pilgrim" fans.
Full list of nominees at The Circuit.
[Photo: Fox Searchlight Pictures]