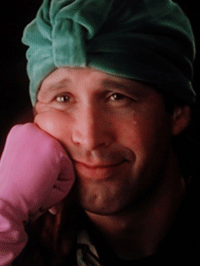 Catch up with the idea behind these weekend posts here.
Granted, Christmas isn't universal, but is anyone making it to this page between the turkey and ham and mistletoe and Darlene Love?  If so, we thank you for squeezing IC into your holiday craziness (though we all know you're just ducking the relatives for a few minutes).
I don't have much to chew on for you, though I suppose 2008's collective of my favorite Christmas films is always good fodder around this time of year.  I just watched "Jingle All the Way" again earlier this week.  Every time, I can only ask myself, "Why did I do that?"
BUT, if you haven't delighted in this one, I suggest you Netflix Instant watch that sucker NOW.
Anyway, I'm in snow-covered Ohio with the future in-laws (and having grown up as an only child, seeing a tree with four kids' worth of presents underneath is a unique sight to say the least).  I was stoked to be met with a White Christmas for, I think, the first time in my life.  And the drive up from North Carolina: GORGEOUS.
The Coens' "True Grit" is likely to make a good chunk of money this weekend.  Good for them, good for Rudin, good for the genre.  I still want to see "TRON Legacy" again, though (sue me).  Just promise me you won't contribute to the inevitable weekend-topping "Little Fockers" box office.  Okay?
For now, here's the usual space.  You know the drill.  Open thread.  Happy Whatever You're Doing Today Day.
[Photo: Warner Bros. Pictures]