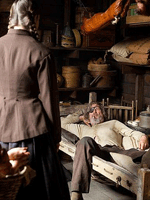 We're wrapping things up today with a final look at the below-the-line of Joel and Ethan Coen's "True Grit" and a chat with production designer Jess Gonchor.
You might recall our interview with Gonchor from last year when he mentioned how he first came to work with the Coens (on 2007's "No Country for Old Men").  The brothers had been very impressed with what they saw on Bennett Miller's "Capote" and liked what he brought to the table.  Gonchor had already shown his value as art director on films like "Kate & Leopold" and "The Last Samurai," but "Capote" was his first stab at being the head of the art department as production designer.
Four films later the collaboration is still going strong as Gonchor has settled in nicely with the Coens' family of craftsmen and women, and "True Grit" might be the apex of that work so far.  Any designer would delight in working on a western, but the attention to detail in Gonchor's work, and particularly in the work of his set decorator, Nancy Haigh, is truly wonderful.
Have a listen to my chat with Gonchor below.  And in case you missed this week's series of interviews:
• Costume designer Mary Zophres
• Sound mixer Skip Lievsay
• Cinematographer Roger Deakins
• Composer Carter Burwell
[display_podcast]
[Photo: Paramount Pictures]