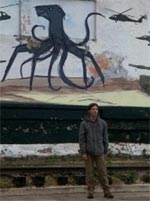 When I was filling out my ballot for indieWIRE's 2010 critics' poll, Best First Film was perhaps the category I spent the longest time deliberating over — as unremarkable as the year has been in other respects, the amount of scrappy new directorial promise surging up through the cracks has been both unusually high and unusually prominent.
Excitingly, much of this fresh filmmaking energy has been on the non-fiction side of things — something reflected in The Guardian's newly announced shortlist for their annual Best First Film award. Four of the 10 films selected are documentaries after a fashion, even as they play with the boundaries of the format. (One of them, of course, turns out to be wholly a performance piece.)
Included, of course, is Kris's #1 film of the year, as is the film I eventually settled on for my indieWIRE vote. The list follows the UK release calendar — hence the inclusion of a 2009 title and the exclusion of, say, "Animal Kingdom" — but it's a fine selection nonetheless.
The shortlist looks like this:
"The Arbor," Clio Barnard
"Down Terrace," Ben Wheatley
"Exit Through the Gift Shop," Banksy
"Four Lions," Chris Morris
"Gainsbourg," Joann Sfar
"I'm Still Here," Casey Affleck
"Monsters," Gareth Edwards
"Restrepo," Tim Hetherington and Sebastian Junger
"A Single Man" Tom Ford
"Skeletons," Nick Whitfield
The winner will selected by a panel of Guardian critic Peter Bradshaw, actress Saffron Burrows and previous winner Gideon Koppel.