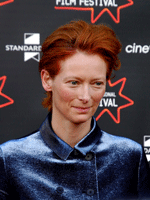 I wrote at the end of my coverage of the Edinburgh Film Festival, back in June, that this year's fest had come in for a fair bit of media flak, with many journos complaining (not entirely fairly, I thought) of a tepid film programme and minimal atmosphere. Few were surprised, then, when the fest's artistic director Hannah McGill resigned from her post shortly afterward; speculation as to who might replace her has been coursing through the UK industry ever since.
As it turns out, the answer is nobody: under a radical new scheme for the festival drawn up by festival patron Tilda Swinton and former EIFF director Mark Cousins–the pair who previously set up their own mobile film festival in the Scottish Highlands– and newly appointed producer James Mullighan, the new-look festival will dispense with an artistic chief (as well as many of its usual parties and awards) and instead have films programmed by multiple guest/celebrity curators.
Clearly, a new tack is needed after this year's festival saw a slump in ticket sales, while the government's abolishment of the UK Film Council meant a harsh budget cut of £1.9 million over the next three years. But I hope the focus isn't led too far from its current remit of new, fringe world cinema and rising British talent: this year's EIFF, for example, was where I first encountered Gareth Edwards's "Monsters."
We know Swinton has  pretty eccentric bent, as well as demonstrable commitment to both challenging arthouse fare and slicker mainstream entertainments — the more she lets that eclecticism trickle into her job as festival patron, the better.
[Photo: Creative Loafing]