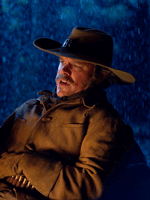 Nearing the end of our week-long series of interviews with the below-the-line talent of Joel and Ethan Coen's "True Grit," we're talking today with the film's composer Carter Burwell.
Of the entire Coen crafts family, Burwell is one of the true veterans.  He goes way back with the brothers — all the way back, in fact, to their directorial debut, "Blood Simple," in 1984.  Save for "O Brother, Where Art Thou?," which featured an assemblage of pre-existing musical selections, Burwell has contributed an original score to each of their films.
With "True Grit," the task was unique despite music having always been quite integral to the genre.  Rather than whip up a completely original score from beginning to end, Burwell and the Coens decided to base a lot of the music on hymns of the period (though there is still a good deal of original music in the film — music unceremoniously ruled ineligible for Oscar consideration by the music branch of the Academy this year).
Here is my interview with Burwell and the rest of the crew from last year regarding "A Serious Man." But have a listen to our chat on "True Grit" below, and don't forget to come back tomorrow as we wrap things up with production designer Jess Gonchor.
[display_podcast]
[Photo: Paramount Pictures]