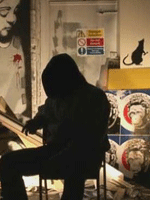 During the 12/10 top 10 podcast, when I spoke on the two documentaries that made my list this year — "Catfish" and "Exit Through the Gift Shop" — I made a point of noting that I'm taking the films at face value.  They are films that spark a natural sense of suspicion, especially in the case of the latter given that it is directed by prankster street artist Banksy, but I'm content to take them for what they claim to be (while feeling that, if fake, they are even more brilliant).
All These Wonderful Things documentary hound A.J. Schnack recently interviewed Banksy about his film.  When the question of authenticity pops up, the debuting filmmaker states explicitly that the film is "100% true," though of course he would.  But it's an enlightening discussion for other reasons.
For instance, Banksy says he's very unpopular in his community at the moment for the attention paid to Mr. Brainwash, whose derivative, pointless, cookie-cutter "art work" becomes a narrative and thematic focus for the film.  There's also his perspective on documentary filmmaking ("Michael Moore and Morgan Spurlock are very punk to me," he says.)  Great stuff.
But, of course, most will be focused on Banksy's words on the veracity of the film, so:
Obviously the story is bizarre, that's why I made a film about it, but I'm still shocked by the level of skepticism. I guess I have to accept that people think I'm full of shit. But I'm not clever enough to have invented Mr. Brainwash, even the most casual on-line research confirms that.

Ordinarily I wouldn't mind if people believe me or not, but the film's power comes from the fact it's all 100% true. This is from the frontline, this is watching an art form self-combust in front of you. Told by the people involved. In real time. This is a very real film about what it means to 'keep it real'.

Besides, if the movie was a carefully scripted prank you can be sure I would've given myself some better lines. I would've meticulously planned my spontaneous off-the-cuff remarks. I love that famous Jack Benny come-back to a heckler – "You wouldn't say that if my writers were here." But I've always wondered – did his writers tell him to say that?
And that's really just a small sampling.  It's an interview well worth your time so go check it out at All These Wonderful Things.
[Photo:Producers Distribution Agency]