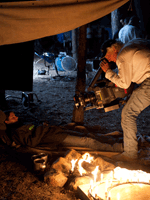 The Coen brothers' "True Grit" opens nationwide today.  And we're continuing right along with our daily look at the below-the-line talent of the film with director of photography Roger Deakins.
Deakins has been with the Coens for nearly 20 years, going all the way back to "Barton Fink" in 1991.  It's fair to say his style and tendencies as an artist have become married to the Coens', forging an identifiable texture to their work together.
But a lot of that general stylish flourish took a backseat on "True Grit," allowing for a much more simplified rendering of the film's imagery.  I've talked to Deakins a couple of times over the years and he's rarely one to pour sound bytes onto an interview, but it's always a great and enlightening discussion regardless.  I keep linking to last year's interview with these guys regarding "A Serious Man" to hopefully shed more light on their process working with the Coens.
Have a listen to my chat with Deakins below.  Toward the end I spill a bit concerning one of the shots from the film, which will show up on my season's-end "top 10 shots of the year" column.  (NOTE: These interviews were recorded two weeks ago so when Deakins talks about the film being finished "10 days ago," keep that in mind.) And again, remember to check back throughout the week as we continue our discussion with the other principals on the crew.
[display_podcast]
[Photo: Paramount Pictures]