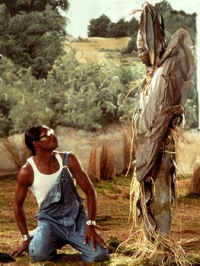 Catch up with the idea behind this series here.
After being overlooked in 1995, Ron Howard finally got a pat on the back from Oscar in 2001 for "A Beautiful Mind," which was Russell Crowe's second Best Picture winner in a row. If that wasn't bad enough, the inaugural Best Animated Feature award went to the unwatchable "Shrek," making this one of the more dubious overall years in Oscar history.
In my opinion of course. "Chicago" isn't much better but 2002 at least threw us a nice curveball when Adrien Brody became the youngest Best Actor winner in history and Roman Polanski became the oldest (and fugitiviest) Best Director for "The Pianist."
At four hours and 23 minutes, the 2001 ceremony is the longest ever, made worse by the fact that Whoopi Goldberg was in charge of it. At least they got Woody Allen to show up for the first time ever for a post-9/11 tribute to New York. I'd suggest the entire ceremony be relocated to New York if it meant Woody would host.
Steve Martin came back in 2002 and trimmed things up by almost an hour. Way to go, Steve! He also delivered what might be my favorite Oscar joke ever- "In "About Schmidt," Jack Nicholson plays a retired insurance executive who climbs into a hot tub with Kathy Bates. But hey, who hasn't?"
Also, Eminem!
2001 – "Pootie Tang" (Louis C.K.)
Did I just lose some readers? Have those readers actually seen "Pootie Tang?" With a total box office gross of $3.3 million (the lowest of any MTV Films production), it's quite possible that most readers haven't. I happened to give it a chance on a lazy summer afternoon with my buddy Ray and we laughed the entire way through. At the time, I wasn't film savvy enough to get all of the blaxploitation satire, but there was still plenty for me to enjoy. Louis C.K. directs like he'll never get another chance to make a movie (he hasn't), spoofing hip hop culture, capitalism, journalism, African American family dynamics and corporate greed among other targets.
The character originated as a sketch on "The Chris Rock Show" and Rock was instrumental in getting the project to the big screen as well. He also does acting duty as Pootie's father, a member of his entourage and a number of other assorted characters, appearing as a stalk of corn at one point (pictured above), in one of the film's more wonderful surreal moments. For anyone who has ever complained that Rock could never translate his amazing stand-up humor to his big screen material, "Pootie Tang" is the closest you are going to get.
Lance Crouther plays the title role with the proper amount of swagger, although his skinny frame and geeky face lend an interesting juxtaposition to the character. He speaks his own language and makes his own rules, and perhaps the failure of the movie to connect with audiences has to do with him being such a bizarre protagonist. The film basically relies on Crouther to simply keep a straight face while the world reacts around him and for that, he is perfectly cast.
Going back to the humor, I'm always partial to a bit of irreverence and Dadaism, which is not usually found in African American cinema. To that end, "Pootie Tang" remains a one-of-a-kind movie. Less concerned with homage than "Black Dynamite," and infinitely sharper than "Undercover Brother," it's on par with the best "In Living Color" used to offer and a particular type of humor that is sorely underrepresented on the big screen. Perhaps it's telling that C.K. and most of the cast (J.B. Smooth, Wanda Sykes, even Crouther as a writer) have found all their recent success on the small screen.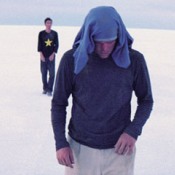 2002 – "Gerry" (Gus Van Sant)
Not exactly what fans of "Good Will Hunting" were expecting when they heard Damon, Affleck and Van Sant were back together again. And not just because they substituted Ben for Casey. "Gerry" is one of the more divisive films to come out in the last few years, with some members of the press that were present at its Sundance launch insisting that the entire thing was a prank on the audience. In case you don't know, Affleck and Damon both play characters name Gerry, who go for a hike in the desert, get lost and wander around. Occasionally they use the word "gerry" to mean "mistake" or "screw-up."
Not much happens. The characters don't speak much and when they do, it's stunted phrases with strange fabricated compounds ("dirt-mattress", "rock-marooned", "scout-about" etc.). One famous shot tracks with the two from behind as they walk in the desert and the sun rises… for seven minutes. It's devastatingly beautiful. In general, the camerawork conceived and executed by Van Sant and Harris Savides is a marvel, and thankfully so, because many times it's the only thing to latch onto as a viewer. The movie runs 100 minutes long and features exactly 100 shots, which may or may not be by design but does give you a great sense of the pace that it runs at.
Is it antagonistic? Sure. But this is a film about being lost in the desert. It's supposed to be boring. It's supposed to be serene. It's supposed to be contemplative. It's okay to have your mind wander as a viewer because it's still the images and the film that are serving as the springboard for that. You will reach a point where your mind wanders back to the "nothing" happening on screen and you'll have engaged in some sort of call-and-response narrative to the film. You may find yourself wondering, "When will this end?" "What am I gonna make for dinner?" "What are those characters possibly thinking?" "Who financed this thing?" None of that takes away from the visceral sensation you'll get watching the film. You will feel like you know what it's like to be lost from civilization with nothing but your thoughts and the silence to distract you. You will be in there with those guys.
Van Sant's rigid formalism could be seen as an apology for "Finding Forrester" or a well-documented tip of the hat to Béla Tarr, but in either case, you have to hand it to him for sheer commitment. He not only stood by his own terms on this film, but two more in his "Death Trilogy," with less effective results. Perhaps because this film features one bona-fide A-list movie star and another up-and-coming talent that it feels so much more adventurous. In some ways, that invites the kind of criticism that asserts these rich assholes are fucking with us, but in other ways it's an incongruity that challenges us to rethink what commercial cinema could and should be.
"Gerry" is a conceptual art piece as much as it is a movie, but anyone familiar with actual experimental cinema would argue that it's as pop as "Transformers." If it can serve as a gateway to me, and possibly others, into exploring both sides and their common ground, then it has to be worth something.
Those are my picks. What do you guys think?
[Photo: Sony Classics]
[Photo: New Yorker Films]