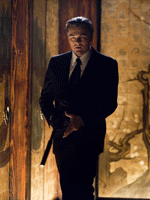 In last week's year-in-review superlatives column, I closed things up as I always do by offering up my choice for "entertainer of the year."  It generally goes to an individual or organization I think made the most significant popular and/or creative impact on cinema in a given year, kind of a tip of the hat to Entertainment Weekly's annual feature.
In past years I've gone with George Clooney (2005), Clint Eastwood (2006), Phillip Seymour Hoffman (2007), Robert Downey Jr. (2008) and Weta Digital (2009), but for 2010, I couldn't think of anyone more applicable than Leonardo DiCaprio, whose work in "Inception" and particularly "Shutter Island" raised his own bar and proved once again that he's a star who wields his cachet smartly.
And now he's been singled out by Forbes Magazine as the year's highest-grossing star.  Both films have made over $1.1 billion at the worldwide box office, so it's a natural choice.  And neither needed the added impact of inflated 3D ticket sales, the piece notes.
Furthermore:
So far his box office this year hasn't been followed up with award nominations. But DiCaprio can laugh all the way to the bank…Those box office riches will also line the actor's pockets. DiCaprio will earn at least $50 million for his work on Inception alone (and likely more now that the film is selling on DVD) courtesy of a deal he struck for a share of first-dollar gross points.
Coming in second place to Leo was, of all people, Mia Wasikowska, due to her work in Tim Burton's "Alice in Wonderland" (and the fact that she is in nearly every scene of the film, which seems to be the reasoning behind not considering Johnny Depp for the slot…odd).
Anyway, hats off to DiCaprio.  Keep doing what you do.  You can read the full Forbes piece here.
[Photo: Warner Bros. Pictures]