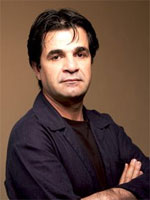 Just as a reminder that there are bigger injustices going on in the film world than so-and-so missing out on an Oscar nomination. I can't even get my head round this. Depriving one of the world's master filmmakers of the right to practise his art for two whole decades? What a waste. It makes six years in jail seem the lesser punishment. From Yahoo! News:
Celebrated Iranian filmmaker and vocal backer of the opposition movement, Jafar Panahi, has been handed six years in jail and banned from making films and leaving Iran for 20 years, his lawyer said Monday.

"Mr. Panahi has been sentenced to six years in jail on a charge of (participating) in a gathering and carrying out propaganda against the system," Farideh Gheirat told ISNA news agency.

"His social rights, which include a ban on making movies, writing scripts, foreign travel and giving interviews to domestic and foreign media, have been taken away for 20 years."
More here. If you're not sure what we're about to lose, find yourself a copy of "Crimson Gold" and weep.
[Photo: Passionforcinema.com]