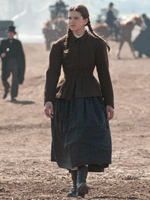 In lieu of a typical entry in our Tech Support interview series (which kicked off last week), and on the heels of Friday's sit-down chat with the Coen brothers, we're kicking off the week of "True Grit" (opening December 22) with a series of five audio chats with the film's below-the-line personnel, all at the top of their game on this very traditional but detailed western.
We'll have sound mixer Skip Lievsay tomorrow, cinematographer Roger Deakins Wednesday, and production designer Jess Gonchor Friday. Each piece will lead off with a little bit of the score from Carter Burwell, who we'll be featuring Thursday.
Today, however, we begin with costume designer Mary Zophres.  Zophres has been with the Coens for 14 years, going back to "Fargo" in 1996.  We first spoke (as I did with most of these folks) last year regarding "A Serious Man," but this time around we had even more to talk about given the period nature of the film.
Interestingly, Zophres has a completely different credit under her belt this year in Jon Favreau's "Iron Man 2." One imagines going from sci-fi to a western was intriguing preparation for "Cowboys & Aliens" next year, but for now, it's all about "True Grit."
Have a listen to my talk with Zophres below.  She's a chatty one and I love her for it, as there are plenty of interesting details and nuggets to chew on.  Remember to check back throughout the week for more interviews with the film's talented crew.  This one is a bit longer than the rest, so we're going deep right out of the gate.
[display_podcast]
[Photo: Paramount Pictures]