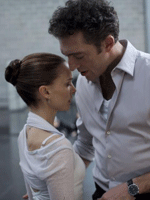 I had a bad feeling Carter Burwell's work in "True Grit" was going to get the axe from a consistently dubious music branch, and so it has. Along with three other hopefuls.
Variety is reporting that Burwell's score and Clint Mansell's for "Black Swan" were nixed due to being overwhelmed by pre-existing music (19th century hymns with the former, Tchaikovsky's "Swan Lake" with the latter). Additionally, the scores from Burwell on "The Kids Are All Right" and Michael Brook "The Fighter" got the boot because of an abundance of songs.
We've been expecting some kind of ruling on this year's crop of contenders. It's a shame, as always, that well-regarded original material has to be penalized due to rules like this, but it's their game and they'll play it how they want.  Thursday we'll feature an interview with Burwell and you can hear the thought process that went into the score for "True Grit." Until then, chew on this.
[Photo: Fox Searchlight Pictures]