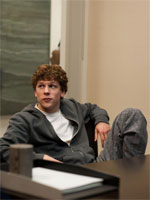 • Kris listed his 10 favorite films of 2010 in black-and-white, later adding his dream Oscar ballot and winners list.
• The critics' award beat turned into a "Social Network" landslide, as New York, Los Angeles, Boston and many, many other groups lined up behind the film.
• Away from the critics' circuit, Team Fincher didn't have it all their own way, as "The King's Speech" led a widely derided list of Golden Globe nominees.
• When it was the Screen Actors' Guild's turn to announce their nominees, however, the royal biopic had to settle for sharing the lead with "The Fighter."
• Meanwhile, it was "Black Swan" that came out tops when the Broadcast Film Critics Association announced their nominees.
• Guy joined Kris and Anne in this week's episode of Oscar Talk to mull over that flood of precursors.
• This week's Long Shot column wondered if a spoiler could emerge in the wake of the "Social Network" blitz.
• We kicked off our annual Tech Support Interview series with a look at the craftsmen behind "Inception."
• Kris, meanwhile, got chatting with some guys you may have heard of called Joel and Ethan Coen.
• Guy's First-Half FYC series continued, casting a spotlight on worthy early-2010 candidates in both the Best Screenplay categories.
• Once again, Chad's Life Without Oscar column took us temporarily out of the season to survey Oscar-slighted titles from a decade ago.
• Taking us forward in time, meanwhile, was the online premiere of a trailer for Terrence Malick's "The Tree of Life."
• Just when its profile couldn't get any higher, TIME gave "The Social Network" a further boost by naming Mark Zuckerberg their 2010 Person of the Year.
• The Academy's music branch narrowed down (well, so to speak) the Best Original Song race with a 41-name longlist.
• We received word of the first confirmed Oscar presenters, including, obviously, the reigning Best Actor and Actress champs.
• In another bit of early Oscar-night prep, we got our first look at this year's official Oscarcast posters.
• While the latest installment in the "Narnia" franchise topped the box-office, it was a robust limited-release gross for "Black Swan" that got folks excited.
[Photo: Columbia Pictures]