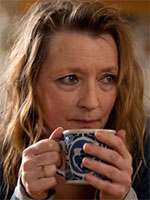 I'll give you a moment to recover from the shock. [Moment.] There, may I continue? Of the B-list critics' awards, the Chicago Film Critics' Association attracts more eyeballs than most, largely because it's Roger Ebert's stomping ground — though the list of nominees they announced this morning suggests a lot of autopilot voting with a few welcome flashes of inspiration.
"The Social Network" tops their list with eight bids, including slightly less obvious mentions for Armie Hammer and DP Jeff Cronenweth, while their matchy-matchy Picture and Director lists include such ubiquitous titles as "Black Swan," "The King's Speech," "Winter's Bone" (nice get for Debra Granik there) and, perhaps less predictably from a critics' group, "Inception."
Surprises are in short supply in the acting categories–though it's nice to see some respect for Lesley Manville after a rough week on the precursor trail–and in Best Foreign Language Film, where a group of actual film critics somehow sees fit to nominate "The Girl With the Dragon Tattoo" alongside the likes of "Mother" and "A Prophet."
Still, props to the Chicagoans for having the ingenuity to nominate John Adams in the Best Score category for "I Am Love," as well as handing well-deserved Most Promising Performer mentions to European breakouts Katie Jarvis and Tahar Rahim. They should be up with the big boys (and girls) in the Best Actor and Actress races, but let's not look a gift horse in the mouth, least of all at Christmastime.
Meanwhile, "The Social Network" continued its sweep of the Best Picture prizes with the Detroit Film Critics' Circle, but "Winter's Bone" took a leading three awards, including Best Actress and Best Ensemble.
Chicago's nomination list here and Detroits list of winners here.
[Photo: Sony Pictures Classics]