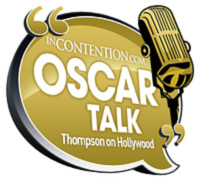 Welcome to Oscar Talk.
In case you're new to the site and/or the podcast, Oscar Talk is a weekly kudocast, your one-stop awards chat shop between yours truly and Anne Thompson of Thompson on Hollywood. The podcast is weekly, every Friday throughout the season, charting the ups and downs of contenders along the way. Plenty of things change en route to Oscar's stage and we're here to address it all as it unfolds.
Going into the holidays and with the critics' awards in full swing, we've brought In Contention's own Guy Lodge on to discuss the goings-on of the season so far. After taking a break from the usual last week, the last 14 days have given us plenty to chew on. Let's see what's on the docket today…
• The critics' awards circuit has revealed a clear, predictable frontrunner in "The Social Network." We discuss what that really means for the Oscar race.
• The Hollywood Foreign Press Association announced nominees for this year's Golden Globes ceremony, a number of them more embarrassing than normal. We discuss those, because I guess we have to.
• The awards that matter in an Oscar race, given crossover membership, are those on the guild circuit. The Screen Actors Guild kicked that wave off yesterday with a list of nominated actors. We dig into that.
• This promises to be the week of The Dude as "TRON Legacy" opens today, "True Grit" opens next week and Jeff Bridges hosts Saturday Night Live this weekend. We use that as an opportunity to talk about those two films.
• And finally, after a week away from them, reader questions! We address queries about the "zeitgeist" classification of "The Social Network," the awards potential of "Burlesque" and and personal faves with no chance at Oscar recognition.
Have a listen to the new podcast below, with a tip of the hat to the late Blake Edwards, who passed away yesterday, leading the way. If the file cuts off for you at any time, try the back-up download link at the bottom of this post. And as always, remember to subscribe to Oscar Talk via iTunes here.
[display_podcast]

Back-up download: Oscar Talk Episode 45