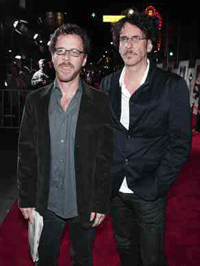 Directors Joel and Ethan Coen have evolved into the quintessential American filmmakers of our time since charging onto the indie scene over 25 years ago. It was a trajectory hinted at in early depictions of Prohibition-era gangsterism ("Miller's Crossing"), post-war Capitalism ("The Hudsucker Proxy"), Midwestern slice-of-life peculiarity ("Fargo") and epic folk land adventurism ("O Brother, Where Art Thou?"), but it was a trademark that snapped into clarity in 2007 with their thematically potent examination of a country at a crossroads, "No Country for Old Men."
It seemed only a matter of time before they turned their attention to the quintessential American genre: the western.  But the word "western" didn't really figure into their thinking when they set about re-adapting Charles Portis's novel "True Grit" for the big screen.
"To us, in a weird way, if you were going to put it into a genre, it was just a young adventure story," Joel says. "It takes place in America in Oklahoma in 1878, so yeah, it's a western, but the other thing almost kind of preceded it in our thinking. So I guess it wasn't consciously approaching it as a 'western' in quotation marks. It's an adventure story with the trappings of the old west."
Brother Ethan concurs, noting that the immediately striking element of the tale, which was originally adapted in 1969 with John Wayne in the starring role of ornery U.S. Marshal Rueben "Rooster" Cogburn, was its point of view.
"It's a first-person story told by this 14-year-old girl," he says. "Well, actually she's more like 40 talking about what happened when she was 14, but just that character and the voice of that character, there's something compelling about it."
Seeing the story as "simple in a good way," the duo saw in the material an opportunity to convey the narrative in a frill-free manner that hasn't really been a hallmark of their work to date. "There wasn't an attempt to embellish at all," Joel says. "It seemed like the most straight-forward way of telling it from a visual point of view was the most appropriate."
The novel itself reads very much in mundane textures, much of it recalling Cormac McCarthy's brand of prose, which of course captured their eye in "No Country for Old Men." Joel notes that Portis has been described as "Cormac McCarthy, but funny," but being faithful to the source was the ultimate goal. "There's something very straight ahead about it," Joel says, "in terms of its value as entertainment, in terms of it kind of fitting into this adventure story genre. You don't want to comment on that. You just want to do it."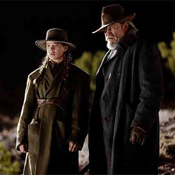 Says Ethan, "The tone of the narrator is very matter of fact. 'Yes I'm a 14 year old girl, but I went and found the coward Tom Chaney and shot him,' and the matter of factness is actually a hallmark not just of the book and of her character, but young adult adventure stories. They're all [about] this kid [who] goes and plunges himself into a strange adult world and these things happen. There is something unvarnished about those stories that's part of what makes them fun, part of what makes them what they are."
And that, Joel says, is where the story gets its energy, and indeed, it's power. "Something like Cormac McCarthy is different," he says. "I don't want to say it's more complicated but in some ways it is, in terms of what he's sort of doing with the story. It's not straight-ahead, exactly, the same way. It can have the same sort of dry tone, but stylistically, what he does with his novels is a little bit more complicated. So I think if you're adapting that you have to get your mind around, 'Alright, how am I going to this?'"
When it came to casting the film's iconic Marshal Cogburn, actor Jeff Bridges, who the brothers famously worked with over a decade ago on "The Big Lebowski," didn't immediately leap to mind. During the adaptation process it was only the character that was driving their interpretation of the material. But once the draft was complete, Bridges became the guy in their minds.
"Frequently when we're writing our own things," Ethan says, "just in terms of figuring out who the characters are, we say, 'Okay, we're writing this for actor X,' but obviously when you're doing a novel you don't need that crutch because the characters have already been given to you."
The reunion was "great," Joel says. "It's been a long time since we worked together, but, you know, it was a very easy, really congenial relationship the first time and on this one it felt very much the same. Jeff's a really easy-going guy in terms of personal relationships and all the rest of it. He's not a contentious fellow. But so is Matt [Damon]. Matt is a real team player, get in there and do the stuff." He adds with a laugh and a playful smirk to his brother, "Josh [Brolin], on the other hand, is a pain in the ass."
The real chore of casting the film was always going to be finding the right actress to play the role of 14-year-old Mattie Ross, the main character, voice and driving force of the narrative. The Coens auditioned exhaustively for the part, mostly because such a thing is a hunt for a diamond in the rough. What they turned up was, by most accounts, a true find in young starlet Hailee Steinfeld.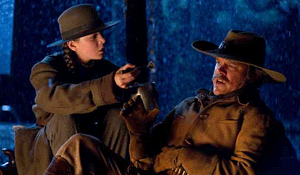 "At that age, when you're doing open calls, 99.9% of the people that come in are just terrible," Joel says. "So you can eliminate them. You're by necessity looking at non-actors. And when you get past that, it's someone who can handle the language, first of all."
Adds Ethan, "You're looking for the same things you'd be looking for in an adult actress, it's just that your odds of finding it are greatly reduced. Frankly, it did occur to us many, many times that what we were looking for might just not be out there. You need somebody with the self-confidence to do that part, understand the part. Just given her sensibility, you're not going to find a girl to play herself. That character doesn't exist now. So you have to find a 14-year-old — actually in Hailee's case it turns out she was 13 when we shot — who has the kind of self-possession to do it and the insight to understand the character and the acting chops and the facility with language. We kind of lucked out."
The film was shot for a budget similar to that of "No Country for Old Men," despite being a period piece set a century earlier. It was also a somewhat more truncated schedule than what they're used to. They began shooting in March and had to have the film ready for a Christmas release. And adding to that pressure were the hoops you have to jump through when filming with someone Steinfeld's age.
"It may not sound like a particularly short schedule except for the fact that it was a very complicated production," Joel says. "And because it was all outside and because we were shooting with a minor, who can only work very, very restricted hours, and because so much of it was at night, and because we were so much at the mercy of weather, for all of those reasons it was a very short schedule.
"One example, just to give you an idea, is we had a lot of night exterior shooting to do. With a 13-year-old, you can't work [her] after midnight. It doesn't get dark enough to shoot until 8:30, so you only have a few hours to shoot with the protagonist every night. But she may be involved in the entire scene, so then what do you do? You can shoot with the double a little bit, you can shoot over the shoulder, but only so much. So that extends the amount of time."
In desperate moments the duo thought about shooting day-for-night, a somewhat archaic technique by today's standards (and one that might not have looked out of place given the film's throwback look and feel), but it was only discussed briefly.
The end result bears little-to-no scars from that struggle, however, and enters a marketplace somewhat untested by western fare, despite a handful of attempts in the years since a vibrant heyday.But  whether the Coens considered it a western "in quotation marks" or not, it nevertheless instantly becomes a fixture of the best the genre has had to offer.
"True Grit" opens nationwide December 22.
(NOTE: Next week coverage of the Coens' latest takes hold in earnest as we begin daily chats with their below-the-line personnel.  Check back Monday as we begin with costume designer Mary Zophres.)
[Photos: Paramount Pictures]