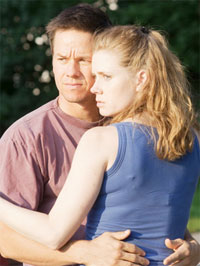 [Updated Oscar predictions here.]
Hey, have you heard of this movie called "The Social Network?" You should probably check it out. It's about Facebook and stuff and it's supposed to be really good. So good, in fact, that it's managed to tame the single most argumentative species in the animal kigdom, The Lesser Spotted Film Critic, into silent agreement. Of the 12 American critics' groups to dish out awards so far, 11 have given their top honor to the film. ("Winter's Bone," you say? Get with the program, San Diego.)
The enthusiasm for the film, of course, extends beyond the sometimes soundproof critics' chamber, as less distinguished media collectives like the HFPA and the BFCA have voiced their approval – while this morning, give or take a Supporting Actor snub, the film passed its first industry award test with two key Screen Actors' Guild bids. Expect the Directors', Producers', Writers' and Editors' Guilds to follow suit in the New Year.
So, we can basically tie a ribbon around Oscar's neck and hand him over to Scott Rudin and David Fincher now, can't we? After all, against all its on-paper disadvantages, "The Hurt Locker" was in a similar position this time last year, and it didn't budge, did it? (Indeed, it didn't even unite the critics' groups to this extent – of the 12 awarding bodies I mentioned above, only five selected Kathryn Bigelow's Iraq actioner last year.) Scarcely anyone has a word to say against the film, so let's sit back and let the sweep wash over us, right?
Well, maybe so and maybe no. For every Oscar filly that starts strong out the gate and doesn't let up, there's another that exhausts itself early or trips itself up. Look back to 2004, when "Sideways" entered the season as the scrappy spoiler to the coolly received "The Aviator," taking the lion's share of critics' honors, the SAG ensemble award and even the top prize from the notoriously Oscar-minded Broadcast Film Critics. It wound up, of course, winning a single writing gong from the Academy.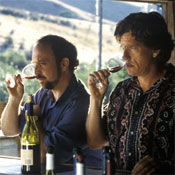 Where did it go wrong? Well, nowhere, really: Academy voters merely took a shine to a more late-breaking alternative from a beloved veteran filmmaker, and neither "Sideways" nor "The Aviator" could compete with "Million Dollar Baby"'s impeccable timing. The following year, of course, saw an even tardier switchback in the race, as "Crash" benefited from a saturated media and precursor blitz for "Brokeback Mountain" that likely left more conservative voters feeling smothered.
So, why are some frontrunners punished by the Academy for taking too much, too soon, while others (including the last three Best Picture champs) permitted to stay the course as they greedily hog the precursor circuit? What makes a backlash? The answer, as obvious as this sounds, lies in how much voters personally like the film in question, how much they feel they're being made to like it, and what alternatives they have if the latter feeling begins to chafe at them.
While many blog readers (and, indeed, writers) are quick to grow bored of a single film's steamroll through the season—whether or not it's a film they liked in the first place—Academy members evidently aren't quite so restless: when they love a film, they're content to let it cruise all the way to the Oscar podium. "Slumdog Millionaire" engendered that kind of devotion with its sentimental underdog status; to a similar extent, the David-versus-Goliath story of a "Hurt Locker" triumph was so irresistible that even members not completely besotted with the film could feel good about voting for it.
"Brokeback Mountain" was a nervier proposition: a film many voters perhaps respected more than they liked, and therefore vulnerable to a more broadly emotive issue movie like "Crash." "No Country for Old Men," a chilly bit of despairing Americana, hardly made a play for voters' hearts, but benefited from a lack of palpably warmer heavyweight alternatives. If a "Million Dollar Baby" had entered the scene late in 2007, the outcome may have been rather different.
What manner of frontrunner is "The Social Network," then – one the Academy can wholeheartedly embrace, or one they might feel strongarmed into voting for? It's impossible to say until the Guild awards start giving us some notion of where industry affections lie, but several pundits have raised concerns about the film being too emotionally muted, too youth-oriented, too cool for the big win. As a story that is to a large extent about media platforming and infighting, it's understandable that the film has struck a nerve with journalists, but will artists find it quite as relatable?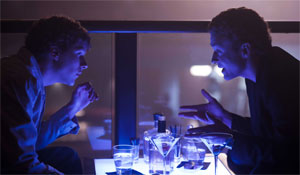 If the answer to that question is 'no,' voters don't want for alternatives this year. "The King's Speech," a statelier, more sentimental bit of prestige bait, is a soft lob to audiences who find Fincher's film a little too snippy, and has duly been tagged by many pundits as the film to beat since its unveiling three months ago. But that film, too, is vulnerable to a backlash: too stuffy, too irrelevant, too old, say some.
Should that meme takes hold, I wonder whether voters might find a workable compromise in "The Fighter," a feelgood underdog biopic with a direct emotional punch that also happens to be a terrific slab of American auteur filmmaking, far more aggressive and eccentric than anything its pre-release publicity led us to expect. More chipper than "The Social Network" without feeling lightweight, more hip than "The King's Speech" without feeling aloof, it ticks an awful lot of boxes – and robust nomination hauls from SAG and the Golden Globes this week suggest that Hollywood is feeling the love. Rather like Micky Ward's fight strategy in the movie, "The Fighter" could do a lot worse than hang back and wait for its opponents to tire — or perhaps for others to tire of them.