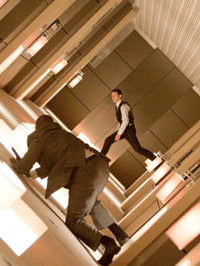 Christopher Nolan has become known for making the Batman films look, and consequently feel, "real."  His latest film, "Inception," despite being a visual treat, also seemed a far cry from the CGI spectacles that normally dominate the blockbuster circuit.  It was very well-received by critics and certainly audiences alike and is currently enjoying a solid run on the awards circuit, having earned multiple nominations from both the BFCA and the HFPA.
Speaking to cinematographer Wally Pfister, production designer Guy Hendrix Dyas (who earned the LAFCA award) and special effects supervisor Chris Corbould, it becomes clear that Nolan's style is as infectious on the crew as it is on the public.  They delight in revealing how they collaborated with Nolan – and each other – to make "Inception" look so real.  The short answer: "Because it is."
Corbould, having worked with Nolan on "The Dark Knight" and "Batman Begins," was on the fast track when Nolan approached him in 2009 to talk about the new film  "I heard from him on a Wednesday," he recalls, "and after reading the script and hearing the pitch, I had signed the contract on the Saturday or Sunday."
Pfister goes back with Nolan much farther, to when they met at a film festival when Nolan was showing "Following." He joined up with the director on "Memento" and has shot every Nolan film since.  He's nonetheless shocked at how much has stayed the same since then, however.  "I still feel we're punks making an independent film," he says.  "Looking back to 'Memento,' it is quite shocking to me how my lighting and the spirit of my work are remarkably similar.  So in many ways I feel we're working exactly as we always have."
Dyas, on the other hand, had a somewhat different experience.  While he also heard from Nolan in March 2009, he was surprised to get the call.  "Chris regularly works with Nathan Crowley but he was occupied and so Chris suddenly found himself needing a production designer and he met with all the usual suspects," he says.  "I was thrilled to get the offer, and when you get a chance to work with Chris Nolan, you take it."
But after getting aboard the film, all three craftsmen had quite similar experiences actually working with Nolan on a day-in-day-out basis.  Having worked with him before, Corbould simply states "he's fantastic – very, very organized.  He brings out every single creative juice of those working on the film."  He adds that, like any great director, Nolan knows what he wants out of those he works with but lets the experts do their tasks.  "He'll come up with an idea," Corbould explains, "and seek to have it represented by you as best you can – and he's brilliant in that he never stops coming up with ideas throughout the whole film."
On their first collaboration together, Dyas says working with Nolan was "an absolute dream.  We're very similar in age, have the same kind of humor, and we love and quite frankly despise the same kinds of films."  He similarly praises Corbould, stating that, "he's tenacious, hard-working, extremely clever and thoughtful in all the decisions he makes."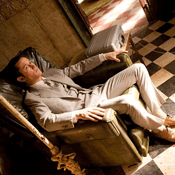 Pfister finds that in many ways he has grown with Nolan as an artist.  "I started out, like Chris, with a Super 8 camera when I was 12 years old," he says.  "I got into it then and never lost the bug.  To be doing massive blockbusters these days is almost surreal."
The scope of the project was also daunting for Dyas, though he has experienced an odd career in Hollywood.  "I've been extremely lucky from the get-go of my career.  The first film I started on was 'X-Men 2.'"  Even for Dyas, however, "Inception" was particularly epic.  "Intellectually and spiritually, it was the biggest film I've worked on.  It was a wonderful opportunity to design, draw, and create these worlds."
Not only was working with Chris Nolan essential, but collaboration between departments was also naturally necessary if the look of the film was to be properly achieved.  "I have a longstanding collaboration with the effects guys – Paul Franklin and Chris Corbould," Pfister says.  "We go back to 'Batman Begins' and know we need to be in collaboration with respect to how effects would be pulled off.  While I always need to be in contact with the production designer and the costume designer to know how elements such as color are going to work, this was particularly true on 'Inception' because Guy and I needed to figure out how to logistically shoot the film."
Dyas notes one logistical matter that stuns audiences to know how it was pulled off: "The corridor set is actually many different sets.  Joseph Gordon-Levitt is going down the corridor and camera is looking up – it's all smoke-and-mirrors."
While that is an example of Dyas working with Pfister, it also shows, he says, that his "real partners-in-crime had to be Paul Franklin and Chris Corbould."  Again using the same example of teamwork, he describes how the rotating corridor had to not distract from the audience.  "If I showed a model like what was built to most special effects people, they'd freak out.  But not Paul and Chris."  The team worked together on building a mechanism to "turn the set" while Pfister was shooting.  "At the same time that Chris was building rings to turn the set, I had to build the set with things like fixtures, for instance, being made out of rubber to not hurt the actors as they were flying around," Dyas says.
Corbould notes, "Chris likes to shoot everything.  He's all about film being the actor's mantle and, even on a large blockbuster, does not want effects distracting from that.  This [film] brought us all around the world — France, England, Morrocco, Japan, Canada and, yes, Los Angeles.  Being able to pull that off was in many ways the most challenging part of working on this movie."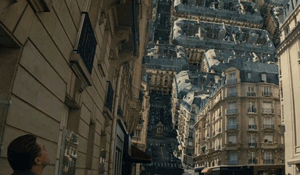 In spite of traveling around the world, Corbould and Dyas remind that things needed to be built everywhere.  To name merely one example, Dyas explains how the cafe which was the site of a dreamscape explosion was actually a Budget Car Rental on a residential street in Los Angeles.  "We couldn't go to a French cafe and blow it up," he says, noting that all the stores behind DiCaprio and Page are real – built by the crew to imitate Paris – and how Corbould "was a hero" in pulling off the explosion itself.
"Chris's philosophy has always been to get everything in camera you possibly can," Pfister says.  "That's Chris's philosophy and we've always done it that way."  Citing the exploding Paris cafe as an example, he explains that "we had air motors and all kinds of devices to create the explosion.  There's an enormous amount of physical effects and mechanical effects before visual effects teams jumped in."
"None of the special effects here are for gimmicky effect," Pfister continues. "It all drives the story forward."  Reflecting on the differing role of photography in effects-heavy movies, he notes, "Compared to something like 'Avatar,' I would not consider 'Inception' to be a visual effects movie in any way.  When you get a scene like the Paris street folding over itself, it's still camerawork and visual effects did the folding-over effects."
An example of a set that was completely built, though it would be computer-generated in most films, was the snow fortress.  "We wanted it to look realistic," Dyas recalls.  "So we entirely built an 80-foot tower – 400 feet across by 500 feet deep."  But in the Alberta mountains, he was panicked about how to pull this off while also not being able to put concrete foundations down.  "I got myself a drink and looking down in the glass, I thought I should fill foundations with water and let it freeze – and we did it!  We had a situation where we had built not only a set but a campus from where to work from," he says.
Despite their importance in creating movies, specifically films like "Inception," these artists remain very much anonymous.  But they do not really seem to expect – or want – it to be any other way.  "I don't really mind it," Dyas says.  "I came to this world 14 or 15 years ago and have loved it.  I didn't get into the business for name recognition.  I've been very lucky.  I've worked with [Steven] Spielberg, [Bryan] Singer and now Chris who have all given me the opportunity to do my thing.  Sometimes I have to pinch myself when I consider how lucky I've been."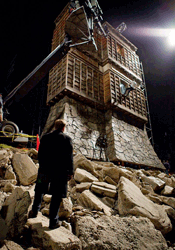 "I like to see my crew's work being rewarded in the press," Corbould admits.  "But the most important thing is that people see the film.  We're there to complement what the director and producers want."  Though he admits that pressure can be on special effects artists on films where the special effects are being used to drive the story and bring crowds into seats, he adds that "that doesn't affect how I approach my work – it can't – because we ultimately need to bring out the director's work."
"You can't let anonymity get in your way," Pfister explains.  "I am a cinematographer first and foremost so you can't think about your own fame.  We're there to support this director and if we're doing the job right, we're interpreting the narrative visually.  If people don't understand our specific role and how much a director is involved and relies on us, you have to take pride and gratitude in work that you're doing and not worry about becoming famous.  The most famous you're going to get is being like Vilmos Zgimond or Roger Deakins," he adds, citing some colleagues he holds in esteem.  "I feel very honored and fortunate to have had three Oscar nominations.  For the rest of world to know what I do is not important.  What is most important is that they see our films."
Looking back on their time on "Inception," and how they have come together to create a film that looks incredibly realistic, all three artists immensely enjoyed their time and will be sure to take it forward into their future careers.  Indeed, most go back to the facts that they used old-fashioned film techniques to make an extraordinary visual accomplishment.
"I think Chris and I both feel that this is the most interesting work that we've done," Pfister says.  "I didn't feel the need to grandstand or do anything wacky with the lighting.  This was probably the best example of Chris and I collaborating to make the photography support the story"
Corbould notes that the film was "very different from 'Batman Begins' and 'The Dark Knight.' 'Inception' was about Chris's mind and we tried to bring you into what he wanted you to see."
"What I was reminded was that sometimes it's smart to go with old fashioned filmmaking techniques," Dyas says.  "Most of it was done with effects that go back to '2001: A Space Odyssey.' Nothing was a breakthrough apart from Chris looking at that film and saying we could use good old Hollywood smoke-and-mirrors.  It looks so real because it is real."
[Photos: Warner Bros. Pictures]