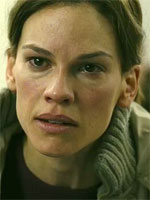 Well, we got ourselves a surprise or two, after all. If you predicted Hilary Swank's out-of-nowhere Best Actress nomination for "Conviction," go out and buy yourself a congratulatory drink. (While you're at the bar, buy a commiserative one for Nathaniel Rogers too.)
I doubt the nomination will launch her into the Academy's five (unless story-mongers really are desperate to see another round in the Swank vs. Bening grudge match), but it does demonstrate how up for grabs that fifth slot is. Lesley Manville and Michelle Williams, the ball is still in your court.
Nothing on the list matches that nomination for sheer unexpectedness, but I suspect a fair few people didn't see "Winter's Bone" star John Hawkes coming in the Best Supporting Actor category — much less at the expense of the season's nominal frontrunner, "The Social Network." I wrote in my predictions last night that I wasn't sure how fully SAG would warm to the film's young, non-insider cast: while I predicted a snub for Jesse Eisenberg, it was actually Andrew Garfield who got the shaft.
(He's in distinguished company, at least: joining him on the sidelines are Jacki Weaver, Ryan Gosling and his aforementioned "Blue Valentine" co-star, all of whom I can easily imagine overcoming this roadblock a month from now.)
Though Mark Wahlberg didn't repeat his Golden Globe coup from earlier this week, "The Fighter" still lived up to its reputation as the season's potential late-breaking spoiler, joining "The King's Speech" in the top spot with four nominations. Just behind, with three, are "The Kids Are All Right" — rallying nicely after a couple of early misses on the precursor trailer — and "Black Swan." Darren Aronofsky's film just goes from strength to strength: with nods from the BFCA, the Globes and now SAG, one-time longshot Mila Kunis is looking a mighty threat for an Oscar spot. Nice.
All four of those titles landed in SAG's ostensible Best Picture category, Best Ensemble, with "The Social Network," of course, rounding out the list. I see a number of our readers already fussing over "Inception"'s absence from the list (well, save for Best Stunt Ensemble), to which I can only say that a large ensemble doesn't count for much when the film isn't much of actor's piece.
Check out the full list of film nominees at The Circuit.
[Photo: Fox Searchlight Pictures]