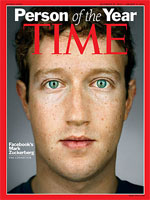 You've probably heard by now that Mark Zuckerberg has been named TIME magazine's 2010 Person of the Year, a selection that couldn't dovetail any more neatly with "The Social Network"'s currently roaring Oscar campaign if the film's publicists had engineered it themselves.
After all, what's really being acknowledged here: Zuckerberg's own achievements over the year, or the raised public profile granted him by the success of David Fincher and Aaron Sorkin's biopic? The time to laud Zuckerberg for the creation of Facebook, no longer the hippest social network on the block, was surely several years ago; this is a testament to the media influence wielded by a single movie.
In turn, the film gets to borrow a measure of the prestige and currency associated with this annual honor: how often can an Oscar contender claim to be about the reigning Person of the Year? Academy voters concerned with the capital-I Importance of their choices can hardly ask for more than that. Well done, everybody.
Meanwhile, TIME writer Lev Grossman discusses the difference between the real Zuckerberg and the screen one:
The Social Network is a rich, dramatic portrait of a furious, socially handicapped genius who spits corrosive monologues in a monotone to hide his inner pain. This character bears almost no resemblance to the actual Mark Zuckerberg. The reality is much more complicated… The Zuckerberg of the movie is a simple creature of clear motivations: he uses his outsize gifts as a programmer to acquire girls, money and party invitations. This is a fiction. In reality, Zuckerberg already had the girl.

You don't get a lot of shy, retiring types at Facebook. These are the kinds of power nerds to whom the movies don't do justice: fast-talking, user-friendly, laser-focused and radiating the kind of confidence that gives you a sunburn. Sorkin did a much better job of representing Facebook when he wrote The West Wing.
More here.