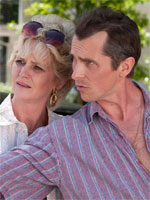 Now that most of the major critics' groups have had their say, tomorrow begins the second phase of the precursor season, as the Screen Actors' Guild makes the first of this year's industry award pronouncements.
I always feel a twinge of dread about the SAG nomination list — frequently more middle-of-the-road than the critics' picks, though with odd flashes of peer affection for unlikely veterans and character actors, they have a way of reducing the pool of Oscar hopefuls rather aggressively. More often than not, boredom ensues: last year, 19 of the 20 SAG individual performance nominees went on to repeat at the Oscars.
Suffice to say, a snub from these guys stings more than one from the Hollywood Foreign Press Association, but Marcia Gay Harden will forever remain a beacon of hope to the SAG-ignored: 10 years ago, a diss from the Guild (and indeed from virtually every other precursor, save the New York critics) didn't stop her taking the golden boy home for "Pollock."
Predictions after the jump.
Tomorrow, I'm particularly interested to see what shows up in the Best Ensemble category, often mistreated by SAG voters as a catch-all category for Best Picture frontrunners — though not in 2007, where they threw in curious curveballs like "3.10 to Yuma." Will "Inception" brush in ahead of more actor-y pieces like "The Kids Are All Right" and "The Town?" I have a feeling not, but if I'm wrong, the film's campaign is clearly in rude health. The ubiquitous "The Social Network" will inevitably pop up in the top race, but will a group of peers be as taken with the film's young, semi-outsider stars as the critics?
Also hoping for some displays of peer affection after missing out elsewhere are beloved vets like Robert Duvall and Dianne Wiest: if their friends at SAG don't prop them up, I'm not sure who will. I've stuck mostly to the status quo in my predictions below, with a pair of wild cards: I'm starting to wonder if the lovefest for his "Fighter" co-stars could sweep Mark Wahlberg in as well, while John Hawkes is the kind of hardworking stalwart of screens big and small that SAG sometimes likes to throw a (ahem) bone.
The 2010 Screen Actors' Guild nominations will be announced at 6 a.m. PST tomorrow morning. We'll be on it. In the meantime, check out my predictions below and share yours in the comments.
Best Ensemble
"The Fighter"
"The Kids Are All Right"
"The King's Speech"
"The Social Network"
"The Town"
Best Actor
Robert Duvall, "Get Low"
Colin Firth, "The King's Speech"
James Franco, "127 Hours"
Ryan Gosling, "Blue Valentine"
Mark Wahlberg, "The Fighter"
Best Actress
Annette Bening, "The Kids Are All Right"
Nicole Kidman, "Rabbit Hole"
Jennifer Lawrence, "Winter's Bone"
Natalie Portman, "Black Swan"
Michelle Williams, "Blue Valentine"
Best Supporting Actor
Christian Bale, "The Fighter"
Andrew Garfield, "The Social Network"
John Hawkes, "Winter's Bone"
Jeremy Renner, "The Town"
Geoffrey Rush, "The King's Speech"
Best Supporting Actress
Amy Adams, "The Fighter"
Helena Bonham-Carter, "The King's Speech"
Melissa Leo, "The Fighter"
Jacki Weaver, "Animal Kingdom"
Dianne Wiest, "Rabbit Hole"
Best Stunt Ensemble
"Inception"
"Iron Man 2"
"Unstoppable"
[Photo: Paramount Pictures]