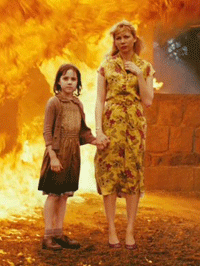 The year is winding down.  Today, as part of the week's on-going year-in-review specials, I'm offering up my annual "if I had a ballot" post.
In years past I've tended to defer to studio campaigns for category placement, but this year I figured, "Screw it."  After all, if I actually had a ballot I could call the shots.  So I have.
You're familiar with my Best Picture line-up by now.  I've opted out of the Best Foreign Language Film and Best Documentary categories because there are a few films I'd rather have seen before making that call, but otherwise, it's the usual Oscar fields with an ensemble category tacked on.
Feel free to post up your own selections, if you have them, in the comments section below.  And remember to check back Friday as I close up shop on 2010 with my list of superlatives.  For now, check out my personal ballot after the jump.
Best Picture
"Another Year" (Sony Pictures Classics)
"Black Swan" (Fox Searchlight Pictures)
"Catfish" (Rogue)
"Enter the Void" (IFC Films)
"Exit Through the Gift Shop" (Producers Distribution Agency)
"A Prophet" (Sony Pictures Classics)
"Shutter Island" (Paramount Pictures)
"The Social Network" (Columbia Pictures)
"Toy Story 3" (Walt Disney Pictures)
"The Way Back" (Newmarket Films/Wrekin Hill Entertainment)
Best Director
Mike Leigh, "Another Year"
Darren Aronofsky, "Black Swan"
Gaspar Noé, "Enter the Void"
Banksy, "Exit Through the Gift Shop"
Jacques Audiard, "A Prophet"
Best Actor
Javier Bardem, "Biutiful"
Jeff Bridges, "True Grit"
James Franco, "127 Hours"
Ryan Gosling, "Blue Valentine"
Tahar Rahim, "A Prophet"
Best Actress
Jennifer Lawrence, "Winter's Bone"
Julianne Moore, "The Kids Are All Right"
Natalie Portman, "Black Swan"
Hailee Steinfeld, "True Grit"
Michelle Williams, "Blue Valentine"
Best Supporting Actor
Niels Arestrup, "A Prophet"
Christian Bale, "The Fighter"
Colin Farrell, "The Way Back"
Andrew Garfield, "The Social Network"
Mark Ruffalo, "The Kids Are All Right"
Best Supporting Actress
Amy Adams, "The Fighter"
Rebecca Hall, "Red Riding: In the Year of Our Lord 1974"
Bryce Dallas Howard, "Hereafter"
Lesley Manville, "Another Year"
Miranda Richardson, "Made in Dagenham"
Best Adapted Screenplay
"I Love You Phillip Morris" (Glenn Ficarra, John Requa)
"Shutter Island" (Laeta Kalogridis)
"The Social Network" (Aaron Sorkin)
"Toy Story 3" (Michael Arndt)
"True Grit" (Ethan Coen, Joel Coen)
Best Original Screenplay
"Another Year" (Mike Leigh)
"Black Swan" (Andres Heinz, Mark Heyman, John J. McLaughlin)
"Blue Valentine" (Joey Curtis, Derek Cianfrance, Cami Delavigne)
"Four Lions" (Jesse Armstrong, Sam Bain, Simon Blackwell, Christopher Morris)
"A Prophet" (Jacques Audiard, Thomas Bidegain, Abdel Raouf Dafri, Nicolas Peufaillit)
Best Art Direction
"Alice in Wonderland" (Robert Stromberg; Karen O'Hara, Peter Young)
"Inception" (Guy Dyas; Lisa Chugg, Paul Healy, Douglas A. Mowat)
"The King's Speech" (Eve Stewart; Judy Farr)
"Shutter Island" (Dante Ferretti; Francesca Lo Schiavo)
"TRON Legacy" (Darren Gilford; Lin MacDonald)
Best Cinematography
"Black Swan" (Matthew Libatique)
"Enter the Void" (Benoît Debie)
"127 Hours" (Enrique Chediak, Anthony Dod Mantle)
"A Prophet" (Stéphane Fontaine)
"Shutter Island" (Robert Richardson)
Best Costume Design
"Alice in Wonderland" (Colleen Atwood)
"Robin Hood" (Janty Yates)
"The Tempest" (Sandy Powell)
"TRON Legacy" (Michael Wilkinson)
"True Grit" (Mary Zophres)
Best Film Editing
"Black Swan" (Andrew Weisblum)
"Exit Through the Gift Shop" (Tom Fulford, Chris King)
"Inception" (Lee Smith)
"127 Hours" (Jon Harris)
"Shutter Island" (Thelma Schoonmaker)
Best Makeup
"Shutter Island"
"The Way Back"
"The Wolfman"
Best Music (Original Score)
"How to Train Your Dragon" (John Powell)
"The Illusionist" (Sylvain Chomet)
"Inception" (Hans Zimmer)
"The Social Network" (Trent Reznor, Atticus Ross)
"TRON Legacy" (Daft Punk)
Best Music (Original Song)
"Me and Tennessee" from "Country Strong"
"I See the Light" from "Tangled"
"We Belong Together" from "Toy Story 3"
"Shine" from "Waiting for Superman"
Best Sound Editing
"Black Swan"
"Inception"
"127 Hours"
"Robin Hood"
"TRON Legacy"
Best Sound Mixing
"Black Swan"
"Inception"
"The Social Network"
"TRON Legacy"
"The Way Back"
Best Visual Effects
"Alice in Wonderland"
"Black Swan"
"Enter the Void"
"Inception"
"TRON Legacy"
Best Animated Feature
"How to Train Your Dragon" (DreamWorks SKG)
"The Illusionist" (Sony Pictures Classics)
"Toy Story 3" (Walt Disney Pictures)
Best Ensemble
"Another Year"
"Four Lions"
"Shutter Island"
"The Social Network"
"The Way Back"
Tally
"Black Swan" – 9
"Shutter Island" – 7
"Inception" – 6
"A Prophet" – 6
"The Social Network" – 6
"TRON Legacy" – 6
"Another Year" – 5
"The Way Back" – 5
"Enter the Void" – 4
"127 Hours" – 4
"Toy Story 3" – 4
"True Grit" – 4
"Alice in Wonderland" – 3
"Blue Valentine" – 3
"Exit Through the Gift Shop" – 3
"Four Lions" – 2
"How to Train Your Dragon" – 2
"The Kids Are All Right" – 2
"Biutiful" – 1
"Winter's Bone" – 1
"Catfish" – 1
"Country Strong" – 1
"The Fighter" – 1
"Hereafter" – 1
"I Love You Phillip Morris" – 1
"The Illusionist" – 1
"The King's Speech" – 1
"Made in Dagenham" – 1
"Red Riding: In the Year of Our Lord 1974" – 1
"Robin Hood" – 1
"Tangled" – 1
"The Tempest" – 1
"Waiting for Superman" – 1
"The Wolfman" – 1
[Photo: Paramount Pictures]