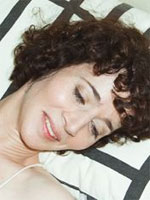 Of all the festivals I attended this year, Berlin was perhaps the one with the most covert significance. At the time, it seemed critics were foraging for scraps amid a dismal competition lineup and a confusingly scattered selection of sidebars — and yet so many of the films I caught there (and some that I didn't) are still with me at the year's end.
Prizewinners like "The Ghost Writer" and "How I Ended This Summer" continue to grow in stature in Europe, Sundance follow-ons like "Winter's Bone," "The Kids Are All Right" and "Exit Through the Gift Shop" are in the thick of the Oscar conversation, and you probably all know by now how I feel about the 2010 Berlinale's most buried world premiere, "The Illusionist."
In other words, there's little way of telling what treasure might be gleaned from the festival lineup until you're actually there. That said, although that tantalizing, briefly-floated possibility of the Berlinale snagging "Tree of Life" didn't pan out, this morning's freshly unveiled list of the fest's first eight official selections offers smaller notes of intrigue.
Chief among these for me is "The Future," Miranda July's long-delayed follow-up to her widely beloved 2005 debut "Me and You and Everyone We Know," which will compete for the Golden Bear — after having its world premiere at Sundance a couple of weeks before. Exclusive to the Berlinale competition, however, is African-American actress-turned-filmmaker Victoria Mahoney's debut feature "Yelling to the Sky," which offers Gabourey Sidibe her first post-"Precious" big-screen role. (Rather surprise that Sundance didn't nab that one.)
Festival director Dieter Kosslick explains the festival's strengthened partnership with Sundance:
In 2011 we'll once again be cooperating closely with the Sundance Film Festival not only at the European Film Market but also in the Official Programme," says Festival Director Dieter Kosslick. "To offer independent films an opportunity to be perceived on a grand scale, we are, in the case of US-American director Miranda July, opening up the Competition for an extraordinary German-American co-production that will run out of competition in the Premieres section at Sundance.
Premiering out of competition is Ralph Fiennes's directorial debut, the Shakespeare adaptation "Coriolanus," in which he stars opposite Gerard Butler and Vanessa Redgrave. Native son Wim Wenders, meanwhile, is bringing his 3D dance film "Pina," a cinematic tribute to the legacy of choreographer Pina Bausch, to the table. Here's hoping it's a return to feature-length form after his dicey recent narrative work.
Finally, although this was announced a few weeks ago, I neglected to mention it at the time: Joel and Ethan Coen's "True Grit" has been designated the official festival curtain-raiser on February 10. The film will be pretty old news across the pond by then, but it's a prestigious feather in its cap anyway.
The festival press release, with details of the seven new selections, as follows:
The first eight titles for the Competition programme of the 61st Berlin International Film Festival have been confirmed. In addition to the opening film True Grit by Joel and Ethan Coen (which is screening out of competition, as announced in the press release on December 7, 2010) another seven productions and co-productions have been selected. They include films from Turkey, the Netherlands, Israel, the United Kingdom, Germany, France and the USA.

So far the following films have been selected:

Bizim Büyük Çaresizliğimiz (Our Grand Despair)
Turkey / Germany / Netherlands
by Seyfi Teoman (Tatil Kitabi/Summer Book)
with İlker Aksum, Fatih Al, Güneş Sayın, Baki Davrak, Taner Birsel, Mehmet Ali Nuroğlu
World premiere

Coriolanus UK – debut film
by Ralph Fiennes
with Ralph Fiennes, Gerard Butler, Vanessa Redgrave, Brian Cox, James Nesbitt
World premiere / out of competition

Lipstikka Israel/UK
by Jonathan Sagall (Urban Feel)
with Clara Khoury, Nataly Attiya, Moran Rosenblatt, Ziv Weiner
World premiere

Pina Germany/France – dance film in 3D
by Wim Wenders (The American Friend, Buena Vista Social Club, The Million Dollar Hotel)
with the ensemble of the Tanztheater Wuppertal
World premiere / out of competition

Wer wenn nicht wir (If not us, who?) Germany
by Andres Veiel (The Survivors, Addicted to Acting)
with August Diehl, Lena Lauzemis, Alexander Fehling
World premiere

Yelling To The Sky USA – debut film
by Victoria Mahoney
with Zoë Kravitz, Gabourey Sidibe, Tim Blake Nelson
World premiere

The Future Germany / USA
by Miranda July (Me and You and Everyone We Know)
with Hamish Linklater, Miranda July, David Warshofsky
International premiere
[Photo: The Playlist]