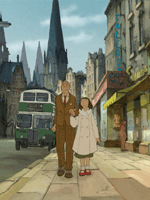 Via press release, the Academy has whittled the Best Original Song field down to 41 eligible contenders.  They can be found in the category's Contenders section.
Nothing stands out as an egregious snub from what I can tell.  Only one of the songs from "The Twilight Saga: Eclipse" is on there, which I guess I didn't expect.  But the usual titles are there and nothing most are predicting has been left off, so now it's all about deciding which entries will tickle the branch's fancy.
What else to say?  I'll likely stick with the same five (which, there may not be five nominees at the end of the day, remember) taht I've had for a while, but I'm intrigued by the inclusion of a song from "The Illusionist." Early on there was talk that maybe something from that could slip in a la "Belleville Rendez-vous."  Perhaps.  You can hear a number of the entires via our "listen to" series, if you want to catch up on this or that.
[Photo: Sony Pictures Classics]