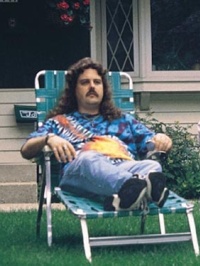 Catch up with the idea behind this series here.
We've all heard that 1999 is the best year in movies since 1939 or possibly ever, but it's hard to defend that statement if you actually believe "American Beauty" is the cream of the crop like the Academy did. Yet another "you had to be there" award that the Academy seems so prone to, while Cannes can pick timeless classics more often than not.
At least the Academy saw fit to reward true ingenuity in the form of three nominations apiece for "Being John Malkovich" and "Magnolia." They even stuck a toe in the water of bravery by nominating a song from "South Park: Bigger, Longer & Uncut," even if it was the worst and least offensive one in the film.
The first year of the new millennium was conquered by "Gladiator," but will perhaps be better remembered for Steven Soderbergh's near-unprecedented double Best Director nomination and the record-breaking 10 nods nabbed by "Crouching Tiger, Hidden Dragon," the most ever for a foreign film.
Academy members also seemed to have popped in their "Dancer in the Dark" soundtrack CDs but couldn't be bothered to do the same with the actual movie, which is the only way to explain Björk landing a nomination for Best Song and not Best Actress.
This year marked Steve Martin's first time at the helm and he remains my favorite Oscar host ever thanks to deadpan gems like, "You know, I saw the movie 'Crouching Tiger, Hidden Dragon,' and I didn't see any tigers or dragons. Then I realized, it's because they're crouching and hidden."
Here's what I recommend you spend your time watching.
1999 – "American Movie" (Chris Smith)
Something of a cult classic, "American Movie" may be the finest movie ever made about filmmaking, or at the very least, the funniest. It possibly could have been even funnier, if director Smith had resorted to merely laughing at his subjects, but he correctly concludes that simply filming them as is would provide the right balance of humor, heart and audience sympathy.
He certainly must have felt that he had struck gold running into Mark Borchardt while working on his previous film, "American Job." Borchardt has an infectious energy and an admirable attitude towards his dream, which is to make movies. He's desperately poor and thousands of miles away from Hollywood, but he has his dream, his friends and a 16mm camera. He also works at a cemetery, is divorced with kids and shows signs of alcoholism. Again, there's plenty to judge Borchardt on, but Smith doesn't go that route. If anything, I left the theater inspired by a man who was reduced to cleaning shit for his art.
As entertaining as Borchardt is, his best friend Mike Schank is doubly so. A man of few words and a killer moustache, Schank initially comes across as a cautionary tale on what years of drug abuse can do to your brain, but as the film progresses, he reveals himself to be a quiet balancing board for Borchardt's rambling, overexcited mind. He's the type of supportive friend that few can boast and it's the scenes between the two of them that lifted the movie to cult status and continues to give them both work on the fringes of Hollywood.
The thematic resonance for anyone trying to make it in the film business, or any artistic pursuit really, is powerful. Initially started as a documentary on the making of one film, it slowly turns into a documentary about the finishing of a previous one in the first of many setbacks that haunt Borchardt. There's never enough money, time, talent or cooperation, but he always comes back swinging. He finds ways to get things done and the triumphant premiere at the end of the film is nothing if not well earned. It's an added bonus then that a lot of the footage Smith sneaks in from Borchardt's actual film is strikingly beautiful and well-composed. Furthermore, he shot and edited the film by hand on celluloid, which probably makes him a technically more adept "filmmaker" than hundreds of young critical darlings working today.
At the end of the day, you have to be a little crazy to attempt moviemaking, but you also have to have an enormous passion for life. Whether its for living life, capturing life, recreating life, analyzing life, deconstructing life, an inquisitive mind is an absolute prerequisite and Mark Borchadt proves that those can be found in the most unusual of places. Just remember, "It's alright, it's okay, there's something to live for… Jesus told me so!"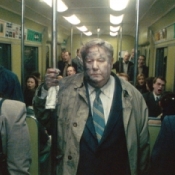 2000 – "Songs From the Second Floor" (Roy Andersson)
Roy Andersson may be my favorite filmmaker at the moment, simply based on this and "You the Living," both of which I saw in the last three years. A somewhat prolific Swedish filmmaker in the late 60's and early 70's, he disappeared from feature filmmaking for a quarter of a century, focusing on personal artwork and commercials before returning with a bang in 2000. Somewhere along the way, he developed a wonderfully unique and acidic aesthetic that is characterized by long takes, surrealist comedy and political or religious satire. Think Bergman meets Fellini meets Van Sant's Death Trilogy meets Jacques Tati.
"Songs From the Second Floor" took four years to make and consists of only 46 shots. The camera moves only once and in a minor way, but otherwise Andersson picks his vantage point and lets his scene unfold within it. In terms of being a master of his frame, few can compete with the virtuoso work done here. Andersson can get a laugh or a heartbreaking moment out of anything, whether it's a door slowly creaking open or a light flickering slightly in the background. Like a magician, he's a master at sleight of hand, focusing your attention here while he does some work here that will reveal itself when he wants. Fitting then that one of the most memorable scenes involves a magician sawing a volunteer in half.
Not just a showman, Andersson clearly has something to say about the political and religious environment in Sweden. What he's trying to say exactly is beyond me. I don't pretend to get every nuance in such a deliberately oblique work. It also features a number of quotes from Peruvian poet César Vallejo, someone whose work I don't know at all and would struggle to find a thematic connection to. This is the misconception about "art" films; that they are hard to understand and therefore unenjoyable. To me, understanding everything is the key to ruining my enjoyment. I want to connect emotionally or be engaged by the images and events unraveling onscreen, neither of which requires following a spelled out plot from point A to point B.
I don't have to know Andersson's motives to understand the loneliness and despair present in Lars Nordh's subdued performance. It's a testament to all the actors that they give fully formed performances, given that Andersson's shooting and blocking style turns actors into one more prop to move around the frame. The following quote sheds some light on his approach and how his painting influences it, "Nowadays I prefer lighting without shadows. There should not be a possibility for people to hide. They should be seen. They should be illuminated all the time. That's what I mean when I say 'light without mercy.' You make the people, the human beings in the movie, very naked."
That may sound like the prized pupil at the Lars von Trier school of filmmaking talking, but it's that attitude that brings such brutally honest moments out of such absurd situations. He goes on to compare the lighting style he's thinking of with cartoons and that is the wonderful dichotomy that makes "Songs From the Second Floor" such a treat. Seek this film out. You may not understand or like it, but you will never forget it.
Those are my picks. What do you guys think?
[Photo: Sony Classics]
[Photo: New Yorker Films]