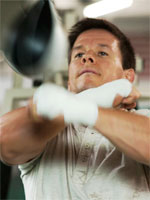 True to form, the Golden Globe nominations are a buffet of the good, the bad and the unconscionably hideous — with perhaps a touch more emphasis than usual on the third of those this year. I refer, of course, to those largely mortifying Comedy/Musical races, where HFPA voters solved the lack of obvious contenders this year by giving in to their randiest star-shagging urges.
Welcome to the Best Picture race, "Red," "The Tourist" and (pauses to cross himself and say three Hail Marys) "Alice in Wonderland." Or, you know, not. Congratulations on your double-shot of well-deserved Best Actor nominations, Mr. Depp. Or, you know, not. Sorry, Sally Hawkins, we liked you just fine in "Made in Dagenham," but Angelina Jolie was obviously working harder in her movie. Or, you know, not.
Still, even as we strike down upon the HFPA with great vengeance and furious anger, I'm feeling pretty chipper about some things: reviled as it is by many, "Burlesque" is the kind of grandly gaudy goof-off that I'm happy to see livening up the category, while my biggest air-punch of the morning came when my actress of the year Emma Stone's name was read out for "Easy A."
Over in the drama categories, there's a similar trade-off between lazy coast-in nominees and genuinely hard-earned surprises: I don't imagine too many people are thrilled to see Halle Berry nominated ahead of Lesley Manville, but we have those sweet twin nominations for the doomed lovers of "Blue Valentine" to make the medicine go down. Pleasing, too, to see Jacki Weaver and Mila Kunis keep making strides in that very pliable Supporting Actress race, while Jeremy Renner's supporting nod for "The Town" reads as an apology note from voters for snubbing him last year. (Again, in return for that, we must tolerate a shameless please-don't-die nod for Michael Douglas's self-parody in "Wall Street: Money Never Sleeps." Them's the breaks.)
Okay, so I led with the finer details. Looking at the bigger picture, however, today's announcement will please, if hardly surprise, fans of "The Social Network" (with six nods) and the film everyone knew would lead the field, "The King's Speech" (with seven). Arguably the bigger story of the morning, however, is "The Fighter," which tied for the runner-up spot with six bids, including Best Director and Best Actor mentions that few saw coming. It seems to me that this rock-solid crowdpleaser has timed its arrival in the race very nicely indeed.
What made way for "The Fighter"'s robust haul, then? Well, as I anticipated, "127 Hours" underperformed, snagging nominations for Actor, Screenplay and Score, but missing out in the top two races. Even more sidelined, however, was "True Grit" — which received a grand total of zero nods. (Yep, even the beloved Jeff Bridges was bumped in favor of Mark Wahlberg.) Whether these signify a general loss of steam in the race, or just a temporary pothole, remains to be seen — but by this point, it should be clear to Fox Searchlight that "Black Swan" (with a healthy five nods) is their prize pony.
As for who might win, it's anyone's guess whether the Globes will follow the critics' lead or not. They certainly didn't last year, or three years ago, when the lush Britpic "Atonement" trumped the bleak Americana of "No Country for Old Men: a precedent that might suggest "The King's Speech," with its leading haul, is still the one to beat here. Over in the comedy wasteland, meanwhile, the "Kids Are All Right" folks are chuckling gleefully to themselves as they laminate their acceptance speeches.
On a final note, nice to see "Carlos," as well as its fire-breathing leading man Edgar Ramirez, get some love in the miniseries race. It should be up with the big (or at least big-screen) boys in Best Picture, but we'll take what we can get.
Check out the full list of film nominees at The Circuit.
[Photo: Paramount Pictures]