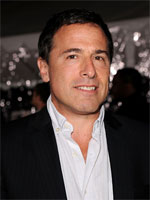 As "The Social Network" continues to steamroll its way through the season's first act, and antsy analysts begin to look elsewhere for a bit of conflict in the race, I find myself wondering what kind of sneak attack David O. Russell's "The Fighter" might yet launch in the Best Picture field.
The film, which goes into wide release on Sunday, is perhaps the most rousing title in the Oscar mix, and if audiences take to it as an unexpected amount of critics have, it could supplant "The King's Speech" as the warmer, scrappier alternative to the chilly precision of David Fincher's precursor-guzzler.
Earlier in the year, "The Fighter" seemed to face one sizable obstacle to Oscar glory — the thorny reputation of Russell himself, whose ugly meltdown on the set of "I Heart Huckabees" has unfortunately became the stuff of YouTube legend, despite being the kind of private professional lapse that only his collaborators should have been party to. Between that and the addled (and finally aborted) production of his his political satire "Nailed," Russell didn't really seem a viable contender for much industry backpatting.
And yet, surely enough, David O. Russell seems to be turning things around. Having made the most approachable film of his career — though, despite fears I expressed in an earlier Long Shot column, the winningly rowdy "The Fighter" isn't the vanillafication of his odd directorial personality that it threatened to be on paper — he's clearly working on being equally accessible to the media.
He comes off well in this interview at The Envelope, in which he declares himself "humbled" by the story material he's been given to work with on this project — that it's his first film on which he doesn't have screenplay credit handily ties in with the angle of a tamed creative ego. Of the film's unusually — for him — efficient production, he adds, "Briskness keeps you out of the recesses of your own head … There's no time for nonsense." (Alluding to said nonsense, he matter-of-factly expresses regret over his well-publicised strops with Lily Tomlin and George Clooney.)
The reward for all this good behavior, then, is one of those generous PR platforms disguised as a festival award. It was announced last week that Russell will receive the Director of the Year award at the Palm Springs International Film Festival — an honor that has recently anticipated Oscar nods for the likes of Jason Reitman, Alejandro González Iñárritu and Alexander Payne. (Less lucky? Another prickly personality — Sean Penn.) I'm fascinated to see if the man, already years overdue for some respect from the Academy, can crack the Best Director five, or if a grudge still holds. The rapidly tightening narrative of the Best Picture race depends on it.
[Photo: The Hollywood Reporter]