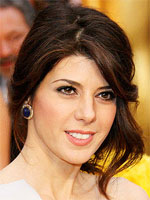 With the big night still over two months away, it's rather early for us to be thinking of Oscar telecast details, but you can bet the show's frantic producers aren't feeling quite so calm about it all. As we speak, Rolodexes and little black books are being frantically rifled through as the list of presenters is drawn up, and today, we were given our first taste of what manner of star power will be joining hosts Anne Hathaway and James Franco (still doesn't sound right, does it?) on stage.
No surprise that reigning Oscar champs Sandra Bullock and Jeff Bridges will be on hand, presumably to present the lead acting awards — the question is whether the producers will stick to the awkward "Logan's Run"-style five-way presenting scheme they've used, to sharply diminishing effect, the last two years running. In the 2008 ceremony, they had the previous winners present their own category: Bridges' likely repeat nomination this year should prevent that, though it'd be fun to watch him eulogize himself.
Meanwhile, Oprah Winfrey, Halle Berry (who, despite that day-long flutter of online buzz for "Frankie and Alice" a few weeks back, probably won't be attending as a nominee) and the perennially awesome Marisa Tomei have also been added to the slate. It'd be nice if the selection of Tomei is the first of a few character actors brought into the mix — I know I'd love to see Stanley Tucci given an envelope to open, for example.
Anyone you'd particularly like to see all dressed up on stage?