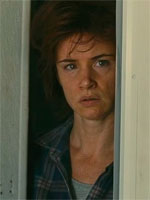 Okay, let's lead with the really interesting news. By handing their Best Supporting Actress award to Juliette Lewis for her barnstorming, dialogue-jiggering hammery in "Conviction" (I mean that in wholly admiring terms, by the way), the Boston Society of Film Critics officially take the title for the coolest go-your-own-way pick of this admittedly young season. Is this win a one-night-only deal, or is Lewis a fun new name to add into the Oscar mix? The latter, I'm hoping.
Beyond that, it was back to regular business, as "The Social Network" furthered its reputation is this year's critical darling by sweeping the top categories — Best Picture, Director, Actor and Screenplay, as well as a citation of Trent Reznor and Atticus Ross's score. Jesse Eisenberg toppled Colin Firth by a single vote to claim yet another handy precursor: that Oscar nomination is looking ever more comfortably in his grasp.
Elsewhere, Natalie Portman made her first move of the season by taking Best Actress for "Black Swan," which also snagged a well-deserved Best Film Editing award. Christian Bale,, meanwhile, took Best Supporting Actor for "The Fighter," which was also recognised for its entire ensemble — proving, along the wins for Juliette Lewis and David Fincher's Harvard-set film, that a little local geography never hurts your case with the Beantown critics.
"Toy Story 3," the group's runner-up for Best Picture, duly took Best Animated Feature honors. "The Illusionist," in turn, was runner-up for that. Huzzah. We're still waiting on a Best Foreign Language Film announcement, however… perhaps "The Social Network" won that, too. (UPDATE: It didn't — Bong Joon-ho's "Mother" won instead. But I'll bet it was close.)
Overall, however, this is a pretty exemplary batch of winners. Take a bow, Boston. Check out the full list at The Circuit.
[Photo: Fox Searchlight Pictures]