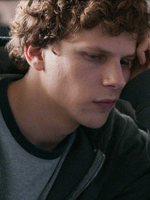 And the films, voted on by like a handful of people (so whatever) are:
"Black Swan"
"The Fighter"
"Inception"
"The Kids Are All Right"
"127 Hours"
"The Social Network"
"The Town"
"Toy Story 3"
"True Grit"
"Winter's Bone"
Meanwhile, the New York Film Critics Online have announced their winners. No surprise "The Social Network" won Best Picture, Best Director and Best Screenplay. The winners at The Circuit.
Also, the AFI's "Announcing the Honorees" video after the jump.
[Photo: Columbia Pictures]