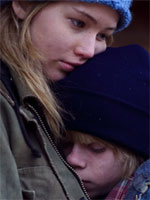 Tomorrow brings out the big guns in the critics' awards derby, as the Los Angeles Film Critics' Circle unveil their picks, with the New York Film Critics' Circle following on Monday. (I believe the less prestigious but often interesting New York Online crix are announcing tomorrow too.)
I offered some thoughts on the significance of these awards in this week's Long Shot column. As for predictions, Kris and I both offered our best guesses in the top six categories over at Tom O'Neil's Gold Derby site, so check 'em out there.
I seem to be out on a limb with my LAFCA Best Picture prediction (though at least Sasha Stone thinks I'm onto something) — after last year's overwhelming consensus among the critics' groups, I can't help sensing at least one of the majors will want to assert their individuality.
As for the remaining categories, "The Social Network" seems the best bet for screenplay honors from both groups, while I think "Inside Job" is likely to emerge as the consensus critical favorite for Best Documentary. LAFCA and particularly the NYFCC  aren't nearly as wedded to Pixar in the Best Animated Feature category as the Academy, so I expect to see "The Illusionist" spring a semi-surprise with either group. (Particularly if, as many are predicting, "Toy Story 3" takes the top prize on the west coast — the Los Angelenos similarly divided their loyalties between "WALL-E" and "Waltz With Bashir" in 2008.)
Best Foreign Language Film is a total crapshoot, though both groups tend to favor titles not in the Oscar hunt. Let's say, oh, "I Am Love" for LA and "White Material" for the New Yorkers.
Which way do feel the wind blowing? Spill your predictions and/or general musings below.