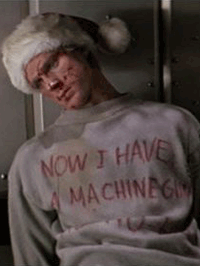 Catch up with the idea behind these weekend posts here.
I totally just rolled out of bed.  And yes, if you're keeping score at home, it's past noon.  These last two weeks have owned my soul.  That's how I feel right now. —————————>
But it's nice to have at least laid the foundations for wrapping 2010 up with yesterday's top 10 list reveal.  I'm happy that was a success and that everyone seems to have enjoyed the podcast.  And thanks to Joe Rogan for the linkage.
I probably spend way too much time deliberating my list every year.  I try to be as honest with myself as I possibly can but everything just turns to mush by December.  The films that really spoke to me always find room and bubble up to the surface, though, and so the further I spin away from having settled on the collective, the better I feel about it and the more I think it represents my subjective interpretation of an interesting year of film product.  But more on that Monday.
Speaking of which, I'm not out of the woods yet.  There is the year-in-review column, the ballot column, the superlatives column, interviews with just about everyone involved in "True Grit" (going all the way up to the top), all in the pipeline.  And that's before we get to the two weeks of much-needed back-east vacationing on the way.  (Though, of course, I'll be working plenty from home — but at least out be out of the maelstrom).
Not to mention the upcoming week of critics' awards announcements that will largely define the awards season's early stages.
But for now, I can settle into some other things for a change, maybe dig back into the Kurosawa discs that have been resting, patiently, on my TV stand, waiting for me to watch movies for fun again.  I can pull the ole' Christmas movies off the shelf, curl up on the couch and try to soak up the other season that's afoot: holiday season.
Operative word: try.
Anyway, you know the drill.  Open thread.  What's on your mind?
[Photo: 20th Century Fox]